April 18th, 2013
---
05:10 pm
April 13th, 2013
---
10:57 am


Also ~ possible Aurora Borealis viewing for some in the US tonight ♥

February 16th, 2013
---
04:39 pm - Thundersnow & The Bed Song
Just now I heard the wind howling and looked outside to see a sudden, blustery snowfall. After a few moments of looking skywards (and taking the photo below), I saw a streak of lightning flash across the sky, followed by a crash of thunder. I've heard thundersnow before, but this was the first time I got to really ~see~ it too… Wonderful.





Also ~ Amanda Palmer's "The Bed Song" video directed by Michael McQuilken & filmed by Sarah Lasley has been released:






("The Bed Song" dress (created on the spot out of bed sheets!) by Kambriel)


You can see my original post from when the video was first filmed, with loads of photos & some behind the scenes stories here:

http://kambriel.tumblr.com/post/30585466109/letsgotobed

Love with an open heart, and never be afraid to ask…

February 3rd, 2013
---
12:08 am - Kitchen witchery of the day...
Eight of these have managed to survive the day ~ it's a miracle!




Pumpkin spice muffins with almonds and dark chocolate candied ginger. They were "experimental", and the main purpose was keeping warm on a cold Winter day, but they came out perfectly, so I had to snap a picture :)

February 1st, 2013
---
09:22 pm - Suspiria
Some new creations & art! These are just the tip of the iceberg of what we've been doing lately, but I realized I hadn't posted here in a while & wanted to at least share a couple of new designs/photos :)




Suspiria Gown photo of ONOH (& mourning doves!) by DividingMe. I really adore how this gown turned out, and when I first saw this photo, I thought it might need to become a poster... it's capturing one of those mystical dreamworlds you wouldn't mind getting lost in.

Also... the Sherlock Greatcoat as worn by the mysterious damsel I half-suspect of being "Jacqueline the Ripper":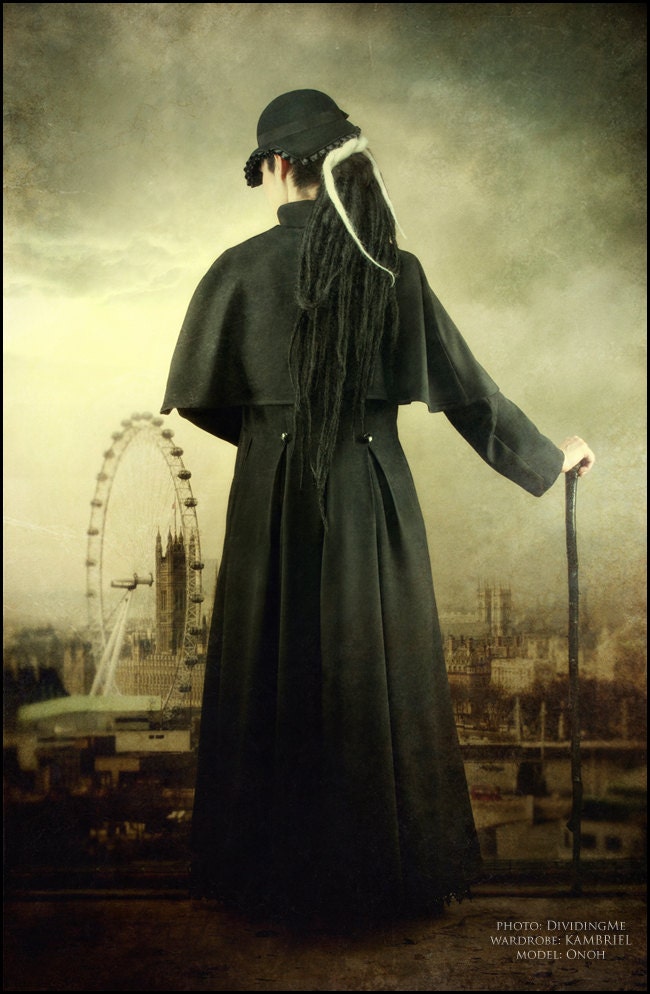 This is based on a custom Kambriel greatcoat made for Neil Gaiman that for those of you not on Twitter (where I'm able to update more frequently) or Tumblr recently sparked a humourously surreal debate from Neil himself as to whether he believed he was actually "cool enough" to wear it...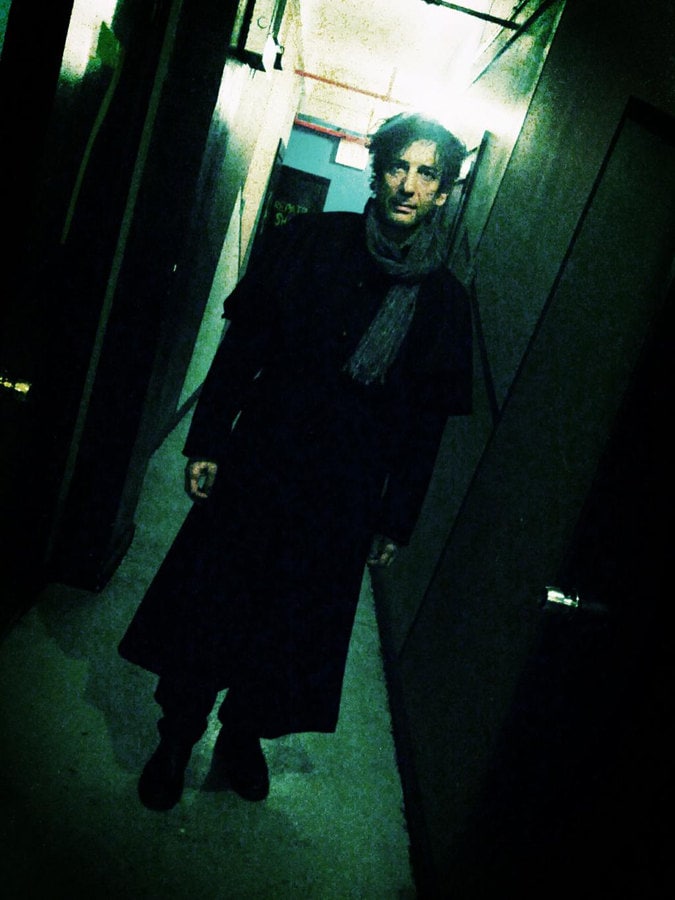 I daresay he is.

There's lots more in the works & I'm trying to make the most of each day even though the Winter weather beckons wishes for the simple luxury of hibernation. Summoning my inner Rumplestiltskin...

January 16th, 2013
---
10:01 pm - Rainy Day & Evening of Awesome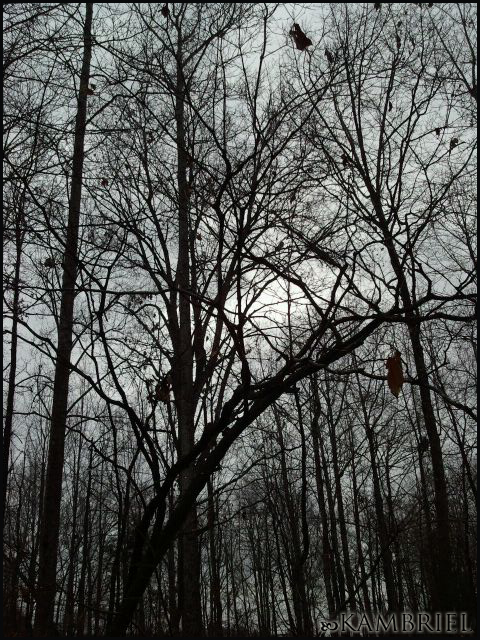 Photo from the other day when I walked a mile and a half in the rain. Peaceful quietude, filled only w/birdsong & the soft sound of raindrops on pine needles and Winter-bare branches overhead. The sky looked like mercurial silver, so I couldn't resist taking a picture & trying to capture just a bit of it.


Also...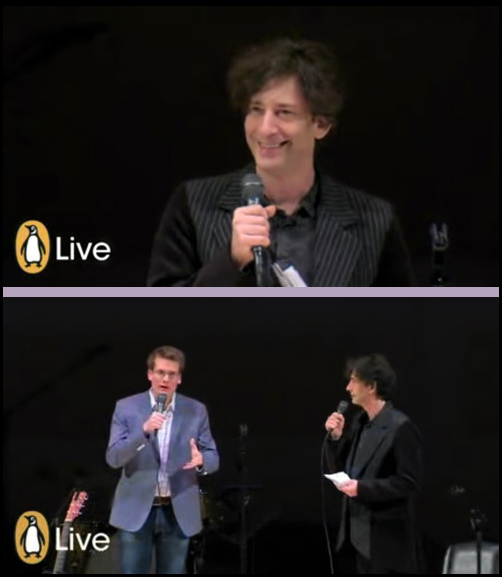 These are from last night's "Evening of Awesome" at CARNEGIE HALL! Neil is wearing his one of a kind black velvet & striped Kambriel coat... Yes, there are indeed threads in there that aren't black ~ hopefully I'll be forgiven this flagrant trespass, but I tried to make up for it with the rest of the frock being made from über soft to the touch black velvet ;)

January 12th, 2013
---
07:25 pm - Cabal ~ in memory of a truly wonderful dog...
Yesterday the world lost its noblest dog, Cabal. Cabal was an old soul dressed in the body of a white German Shepherd that survived being chained and uncared for until April 30, 2007 when fate intervened, he was found by Neil and became part of the family he was always meant to have.

My belief is that his spirit will cause the moon to glow a little brighter.


A few moments in time...

Master Cabal, alert & at the ready (with an adoring, slightly worn out Lola faithfully by his side):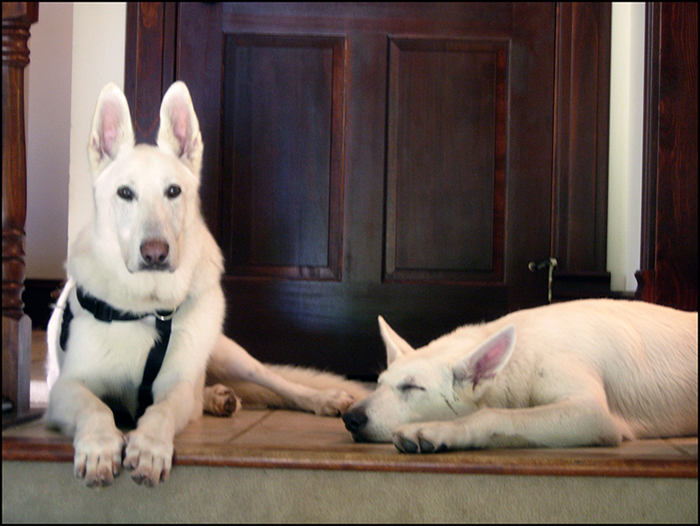 Sharing a peaceful moment on a hot Summer day: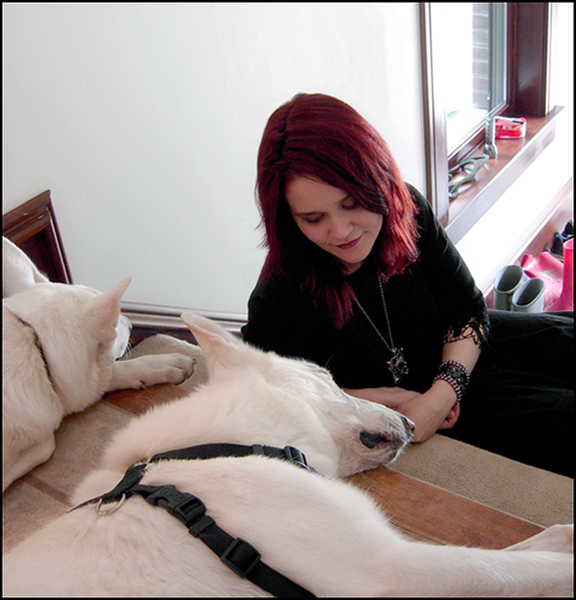 Heading out for a walk... I loved how Cabal kept corralling me back in: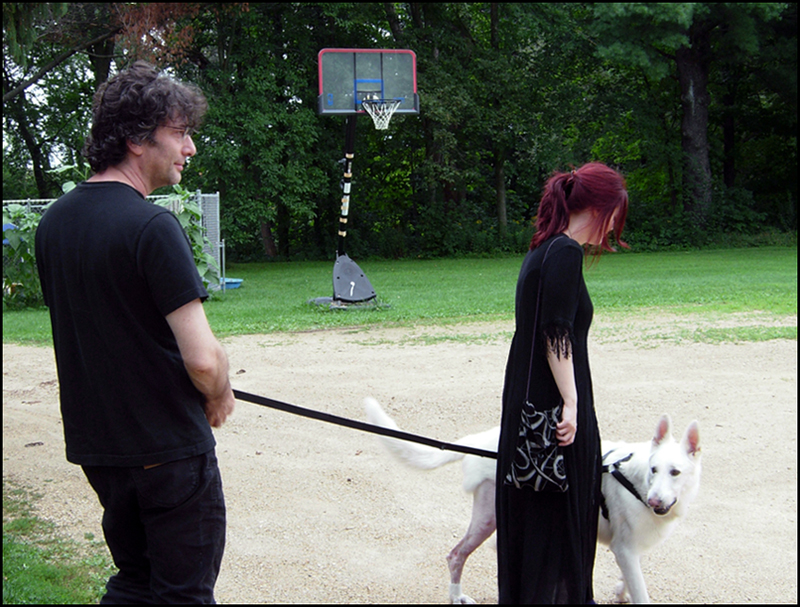 The personification of love, loyalty, fulfillment, friendship, faithfulness, understanding & an unbreakable bond that neither distance, time, nor death itself can sever...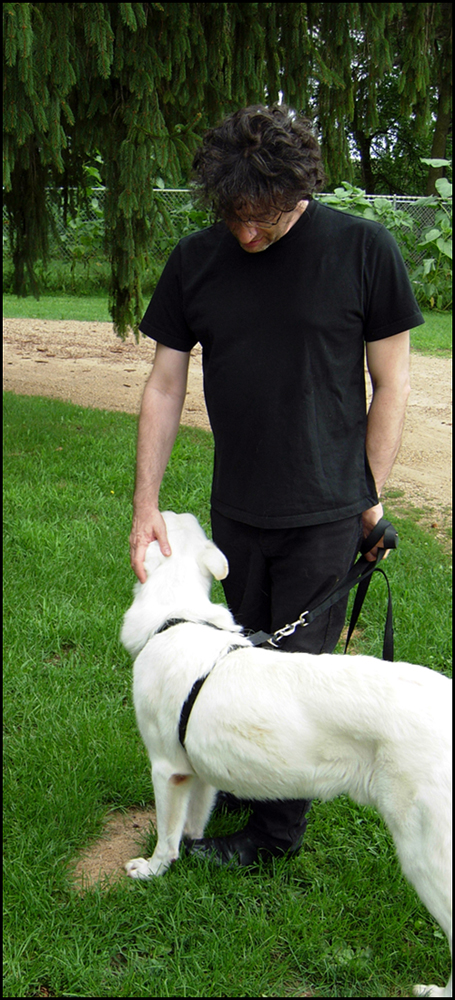 Neil's heartfelt post: http://journal.neilgaiman.com/2013/01/the-power-of-dog-cabal-2003-2013.html

"If Love Could Have Saved You, You Would Have Lived Forever." ~ Within the hearts of those who loved him, I know he always will.

December 28th, 2012
---
08:58 pm - Purple Rain...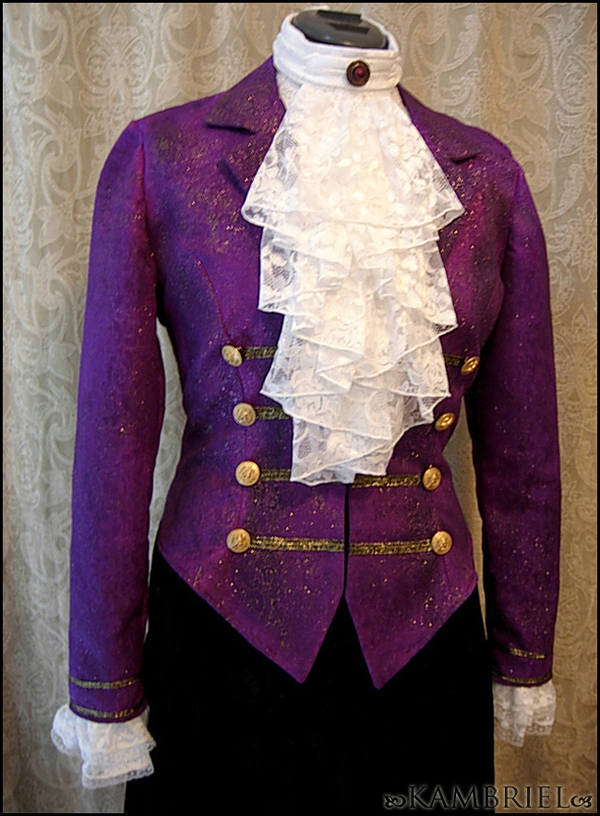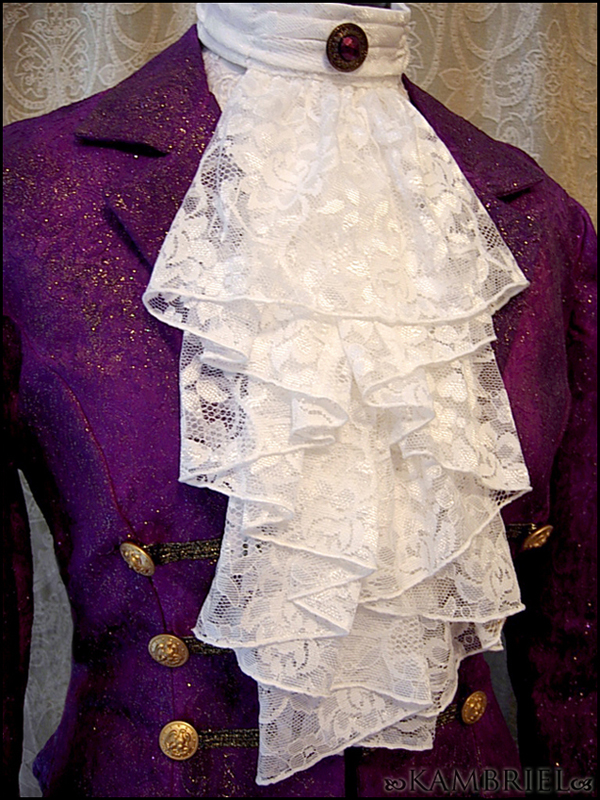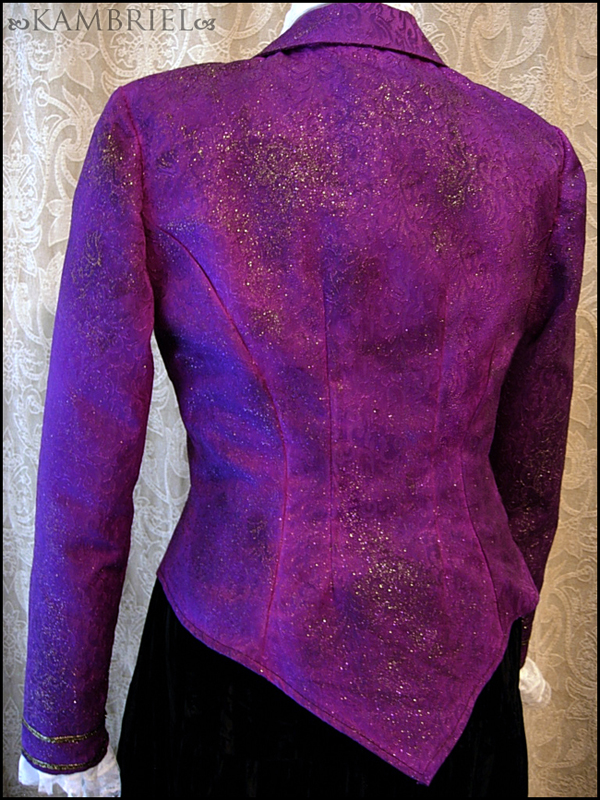 (

dearly beloved...Collapse

)



I've been busy this past week making some brand new custom stagewear for Amanda Palmer! These pieces were created for the upcoming New Year's Eve show at Terminal 5 in NYC wherein the entire "Purple Rain" album will be performed live to wrap up 2012 & ring in 2013. In honour of the performance's muse, I wanted to create a neo-romantic decadent, yet structural look Prince himself would approve of. The jacket design was drafted by hand just this past week & originally made from an intense fuschia brocade which I then layered with four different tones of dark purple, glittering gold & violet paints to achieve a deeper, multi-dimensional shimmering effect. Here's hoping it sparkles under the lights of the stage!

For those attending the show (sadly, due to a huge unexpected expense earlier this month, combined with a snowstorm thwarting the long drive, it looks like I'll have to be there in spirit) ~ keep your eyes peeled and you might also catch sight of a sheer, metallic purple kimono I made for Amanda, as well as a raspberry beret...

December 21st, 2012
---
07:45 pm - Solstice


Wishing you a magical Winter Solstice...

(Photo: DividingMe - Headdress & Gown: Kambriel - Model: Nancy Dee)

December 19th, 2012
---
10:49 am - shifting paradigms
The comment I left in Amanda's blog Dearly Beloved in regards to the Newtown tragedy:


There is so much at root here that goes far deeper than stricter gun control and better mental health access. You can see it in the rudeness of some YouTube comments, in a land where testosterone gels are pimped out on tv as if they were cologne... We must remember the basic tenets of kindness & compassion are true strength ~ not hatred, fear-mongering & rage. The "us vs. them" way of thinking that we see so clearly in politics, in divisions between red and blue (& here's where PURPLE comes into play), the bullying we see in schools, is ultimately one of naivety & insecurity ~ of not realizing we are one, that we're in this together.

That said, I have hope because for as much mean-spiritedness that is out there, I believe there is *more* compassion. For each person desiring to tear down, there are more who will help rebuild. In a world filled with fragile balances, this tugging between the two is something we shall always face. I truly hope this tragedy shines a light on the fact that death by gun is ludicrously out of control in the US, that our profit-above-all healthcare system where people have to debate taking an ambulance or seeking treatment they can't afford is unconscionable compared to many other parts of the world, that if we start looking towards others who are handling certain things better than we are, if we can take the first step of showing some humility & not being too haughty to admit we ~don't~ always have it right, perhaps we can learn from our mistakes, begin to heal & advance.

For those who argue, "But that won't solve things"... 100% solutions are hard to come by. What matters is taking steps that attempt to bring us closer to what's ultimately needed. We don't need access to automatic assault weaponry in our homes that unleash a spray of bullets. Even if those weapons were out of our homes, would it stop violence? No, but it's a step closer to curtailing the madness. (As someone who grew up in an abusive home, I know I would have been that much more relieved had my father not also had a closet full of guns.) Would having access to free mental health care stop all would-be attackers? No, because many wouldn't have believed they had a problem or sought help to begin with; but would it be a good step for people who *can* recognize an issue and need guidance? Yes.

As much power to harm as individuals have, each of us has an equal, if not greater, capacity to help ~ to share what we can, give when it is needed, simply say a kind word & brighten someone's day. We must re-write the script where meanness and not giving a damn is somehow "cool" & stop mocking things like peace/empathy/care. It's up to us to shift the balance and while we can't stop every horror, we can be sure that *we* overshadow it with love.