May 17th, 2012
---
04:23 pm -

Kambriel NYC fashion show


I had a wonderfully top secret art project to complete as soon as we got back from doing our fashion show at the NYC 19th Century Extravaganza in NYC, but the project is **APPLAUSE* done (I can't wait to share it with you!), and today I finally had a chance to gather up some photos from the show.

The pictures are presented in order of appearance in the show itself, and the song we performed it to was the mesmerically dreamy "Salomé" by The Changelings.

Countess Cynthia von Buhler, in an Edward Gorey inspired "The Evil Garden" (note the plethora of tassels aka Les Passementeries Horribles...) gown ~ in monochrome shades of both shimmering and velvety black with accents of silvered grey:





A closer view of Cynthia with a ruffled collar made from antique Chantilly lace found in Paris, oversized black rose hat, and the gown's beribboned bodice: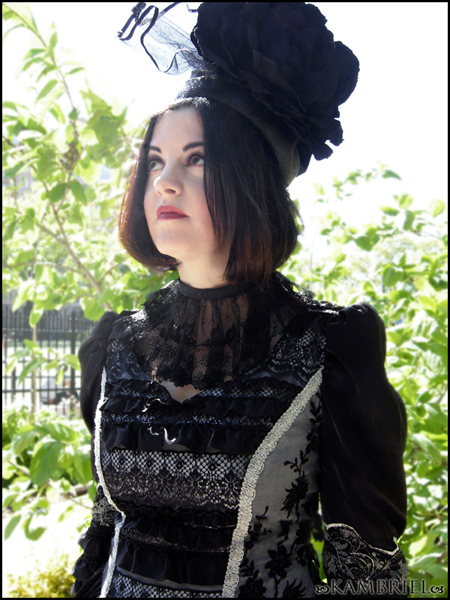 Cat Valente, looking every bit the goddess she is, with a headdress made from a combination of velvet, glass beads, and silken flowers: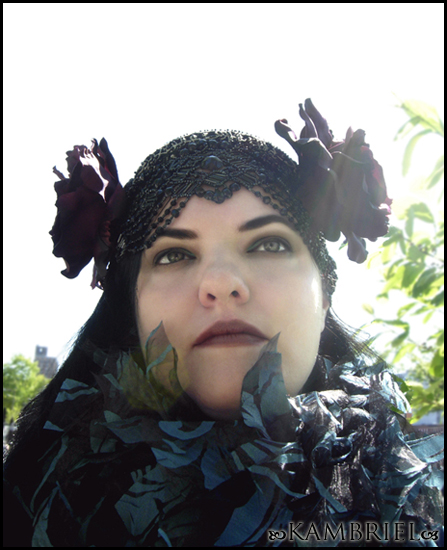 Cat wore an Isabella Coatdress made from lightweight teal wool, with art nouveau organza flounces in shimmering teal and black with golden highlights: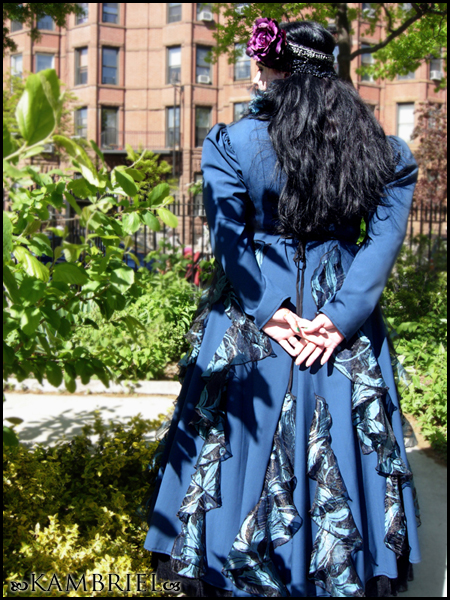 Naeelah wrapped in shimmering Art Nouveau organza atop a ruffled dress in translucent black, edged with iridescent peacock shades. The diadem styled headdress is made with salvaged Victorian jet beadwork, framed in pleated satin, upon a velvet base: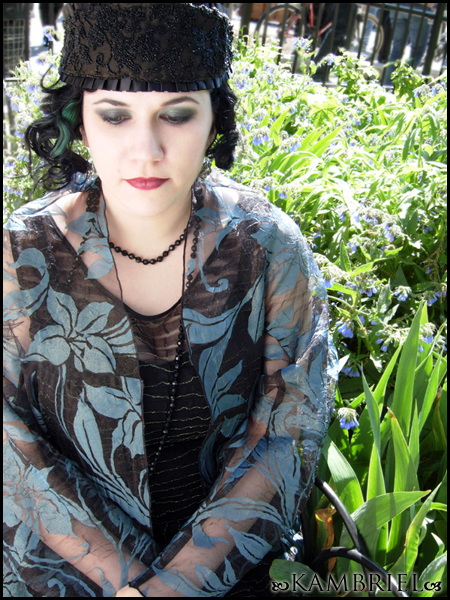 Monsieurs Curse et Joel ~ Curse in a silver silk dupioni high collared shirt and matching cravat, with a peacock feather silk brocade long waistcoat, and Joel in a crinkled cotton high collared shirt and matching ascot, with a black, blue, and gold toned silk brocade double-breasted vest (made from the last bit of the same silk as Amanda Palmer's bustle dress that she wore on her tour with Neil last November!):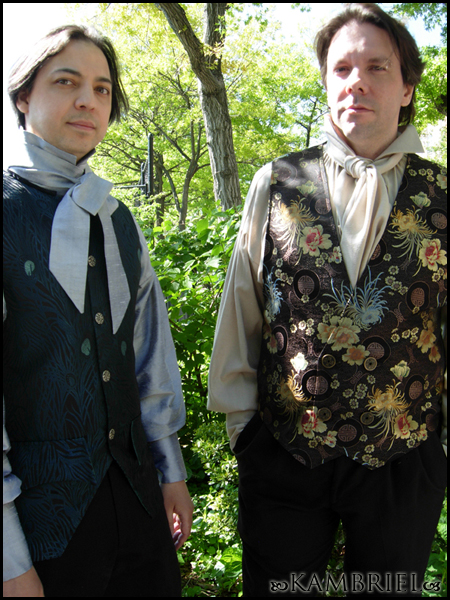 C'est moi, in tentacular black: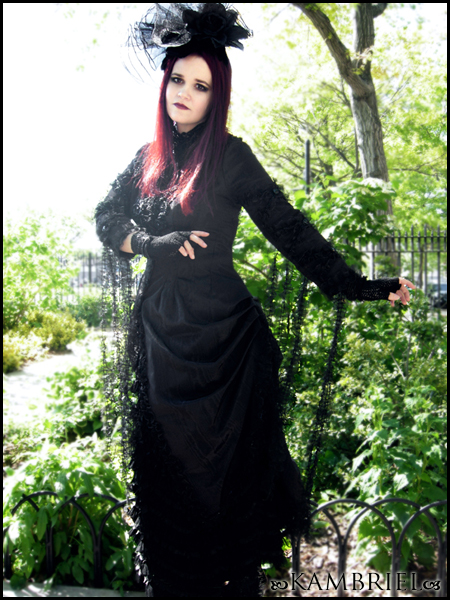 Aurora, in a highly textural skirt of black satin flower petals, lace gloves, and fitted jacket made from antique hand-embroidered soutache in an elaborate striped design. These were topped off with an authentic Victorian black jet Medici collar, placed atop the jacket: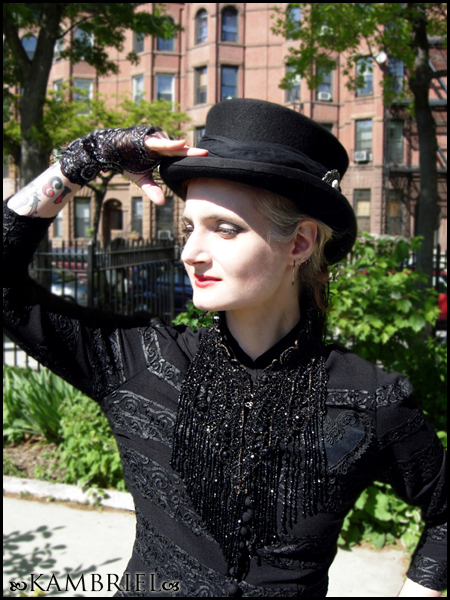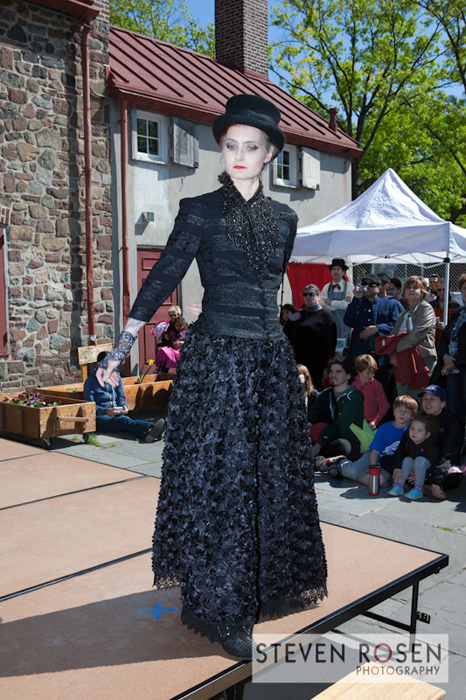 Judy, as the perfect mysterious femme fatale, in a ruffled capelet of sheer black netting and pleated satin, worn atop a gown of vintage lace inset with black velvet, beaded accents, and openwork sleeves ~ all topped off with a velvet hat edged in beaded fringe, and hand-cut tattered ribbons: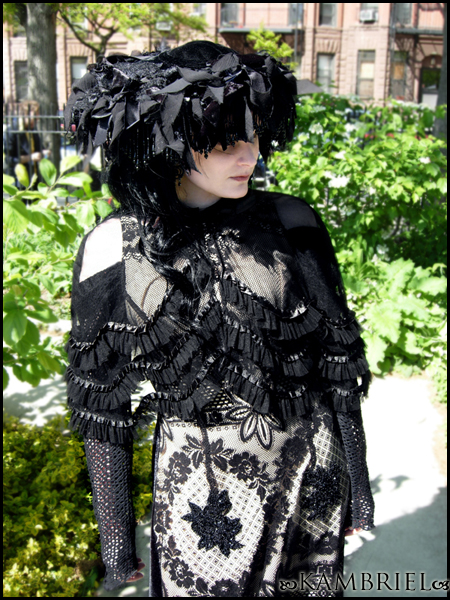 Vintage Vamp: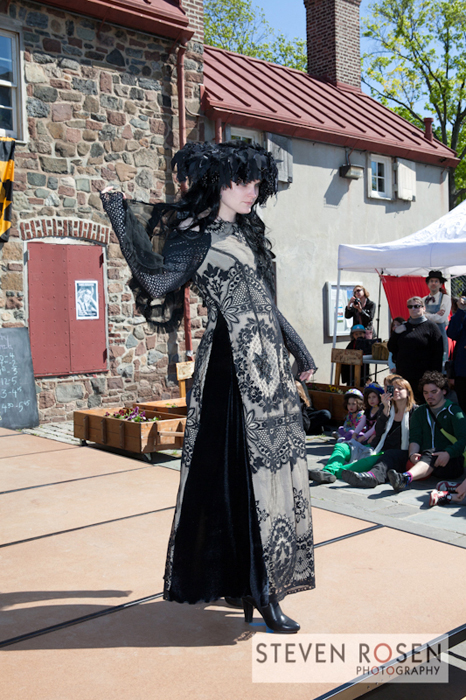 Gala in an elegantly whimsical gown of silver & ivory striped taffeta, edged in black lace, and featuring a pictorial bodice centerpiece ~ again topped off with one of my giant black rose hats!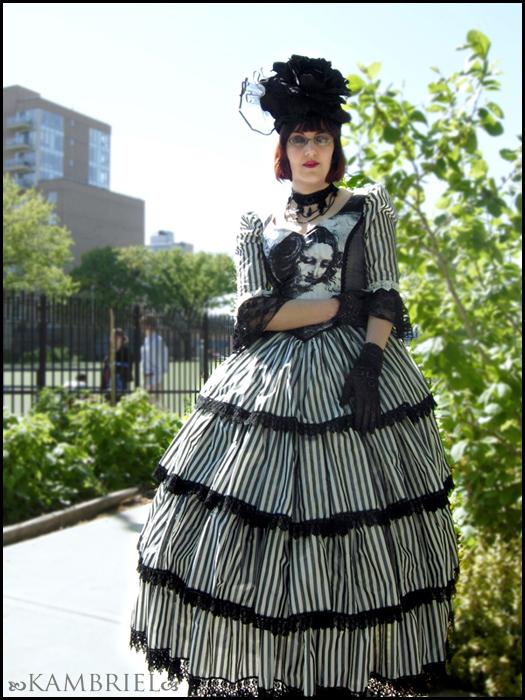 Backstage bonus shot! Wherein Cynthia & I are apparently brushing up on our skills of telekinesis: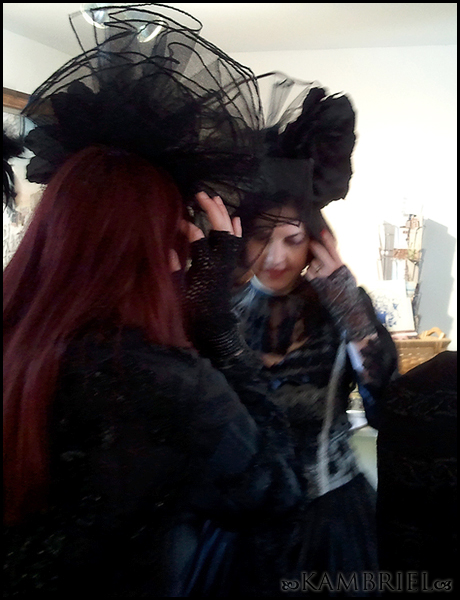 Post show, family portrait:






Thank you so very much to Zoh & the NYC 19th Century Extravaganza for inviting me to show in their charming event at the Old Stone House in Brooklyn, as well as our fantastic (both onstage & offstage as well) models for gracing these designs with their wonderful presence & warmth of spirit ~ Cynthia, Cat, Naeelah, Curse, Aurora, Joel, Judy, and Gala. In addition to our models, thank you so much to
icprncs &
morthael for making the trek up to see the show, *and* for all of your (greatly appreciated!) help afterwards. *My love to you all*


I hope you enjoyed the show!,
~ Kambriel

---