February 16th, 2013
---
04:39 pm - Thundersnow & The Bed Song
Just now I heard the wind howling and looked outside to see a sudden, blustery snowfall. After a few moments of looking skywards (and taking the photo below), I saw a streak of lightning flash across the sky, followed by a crash of thunder. I've heard thundersnow before, but this was the first time I got to really ~see~ it too… Wonderful.





Also ~ Amanda Palmer's "The Bed Song" video directed by Michael McQuilken & filmed by Sarah Lasley has been released:






("The Bed Song" dress (created on the spot out of bed sheets!) by Kambriel)


You can see my original post from when the video was first filmed, with loads of photos & some behind the scenes stories here:

http://kambriel.tumblr.com/post/30585466109/letsgotobed

Love with an open heart, and never be afraid to ask…

February 3rd, 2013
---
12:08 am - Kitchen witchery of the day...
Eight of these have managed to survive the day ~ it's a miracle!




Pumpkin spice muffins with almonds and dark chocolate candied ginger. They were "experimental", and the main purpose was keeping warm on a cold Winter day, but they came out perfectly, so I had to snap a picture :)

February 1st, 2013
---
09:22 pm - Suspiria
Some new creations & art! These are just the tip of the iceberg of what we've been doing lately, but I realized I hadn't posted here in a while & wanted to at least share a couple of new designs/photos :)




Suspiria Gown photo of ONOH (& mourning doves!) by DividingMe. I really adore how this gown turned out, and when I first saw this photo, I thought it might need to become a poster... it's capturing one of those mystical dreamworlds you wouldn't mind getting lost in.

Also... the Sherlock Greatcoat as worn by the mysterious damsel I half-suspect of being "Jacqueline the Ripper":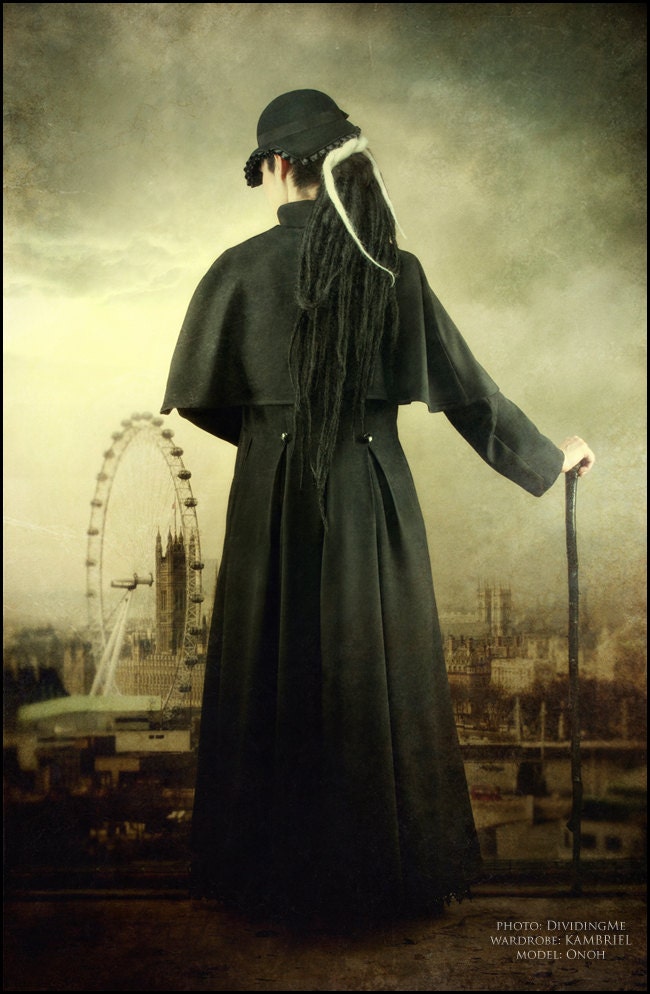 This is based on a custom Kambriel greatcoat made for Neil Gaiman that for those of you not on Twitter (where I'm able to update more frequently) or Tumblr recently sparked a humourously surreal debate from Neil himself as to whether he believed he was actually "cool enough" to wear it...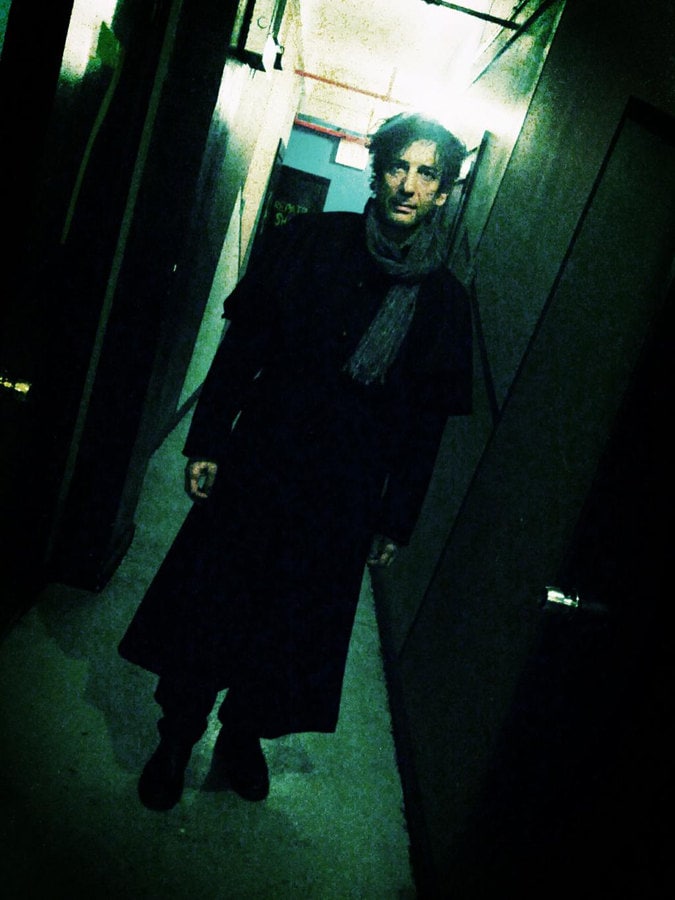 I daresay he is.

There's lots more in the works & I'm trying to make the most of each day even though the Winter weather beckons wishes for the simple luxury of hibernation. Summoning my inner Rumplestiltskin...

January 16th, 2013
---
10:01 pm - Rainy Day & Evening of Awesome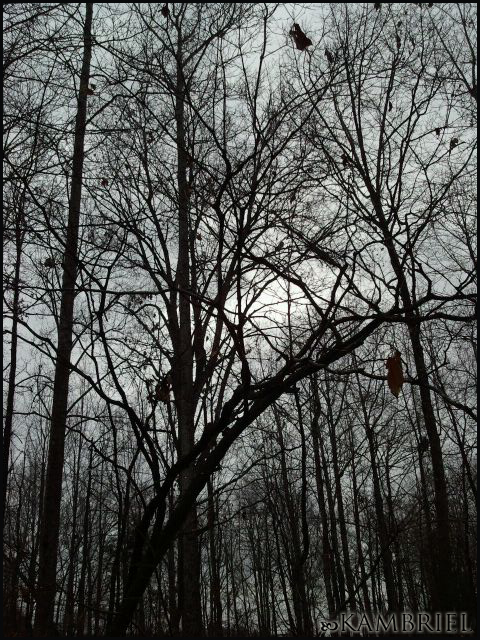 Photo from the other day when I walked a mile and a half in the rain. Peaceful quietude, filled only w/birdsong & the soft sound of raindrops on pine needles and Winter-bare branches overhead. The sky looked like mercurial silver, so I couldn't resist taking a picture & trying to capture just a bit of it.


Also...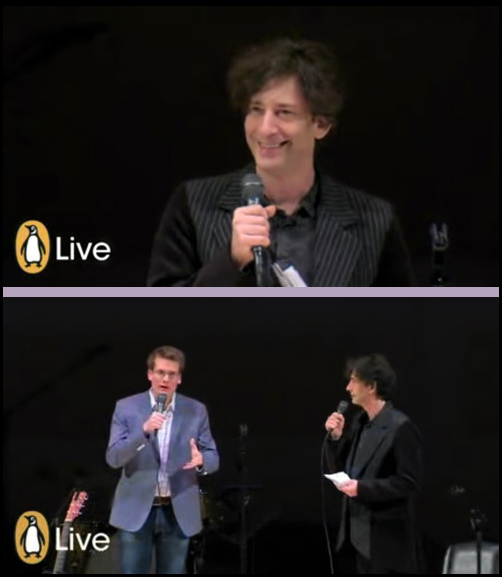 These are from last night's "Evening of Awesome" at CARNEGIE HALL! Neil is wearing his one of a kind black velvet & striped Kambriel coat... Yes, there are indeed threads in there that aren't black ~ hopefully I'll be forgiven this flagrant trespass, but I tried to make up for it with the rest of the frock being made from über soft to the touch black velvet ;)

January 12th, 2013
---
07:25 pm - Cabal ~ in memory of a truly wonderful dog...
Yesterday the world lost its noblest dog, Cabal. Cabal was an old soul dressed in the body of a white German Shepherd that survived being chained and uncared for until April 30, 2007 when fate intervened, he was found by Neil and became part of the family he was always meant to have.

My belief is that his spirit will cause the moon to glow a little brighter.


A few moments in time...

Master Cabal, alert & at the ready (with an adoring, slightly worn out Lola faithfully by his side):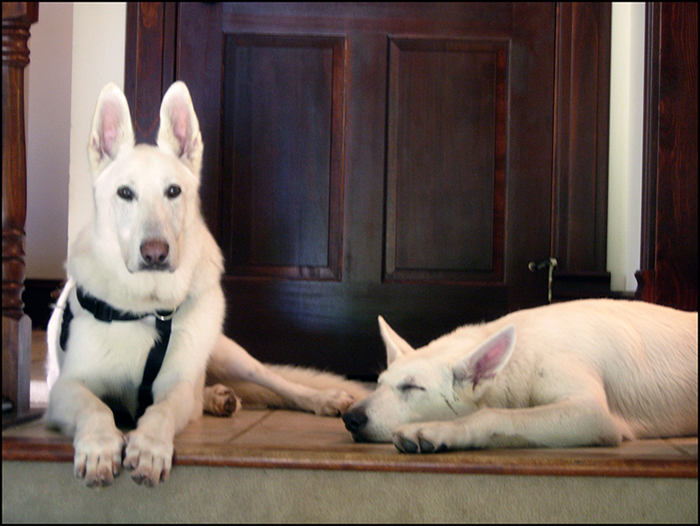 Sharing a peaceful moment on a hot Summer day: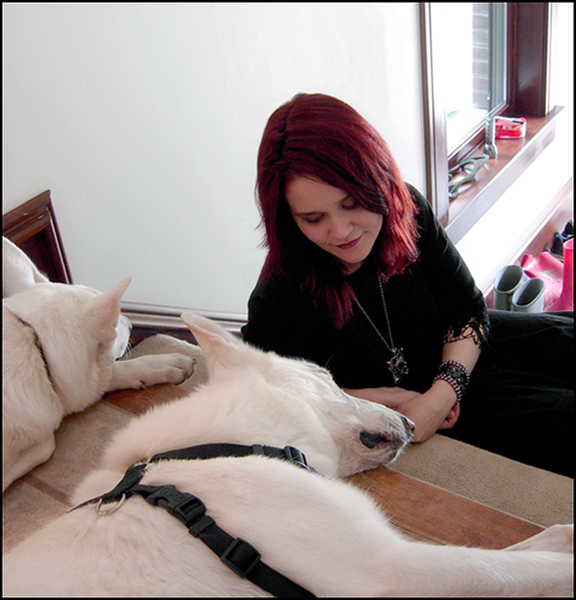 Heading out for a walk... I loved how Cabal kept corralling me back in: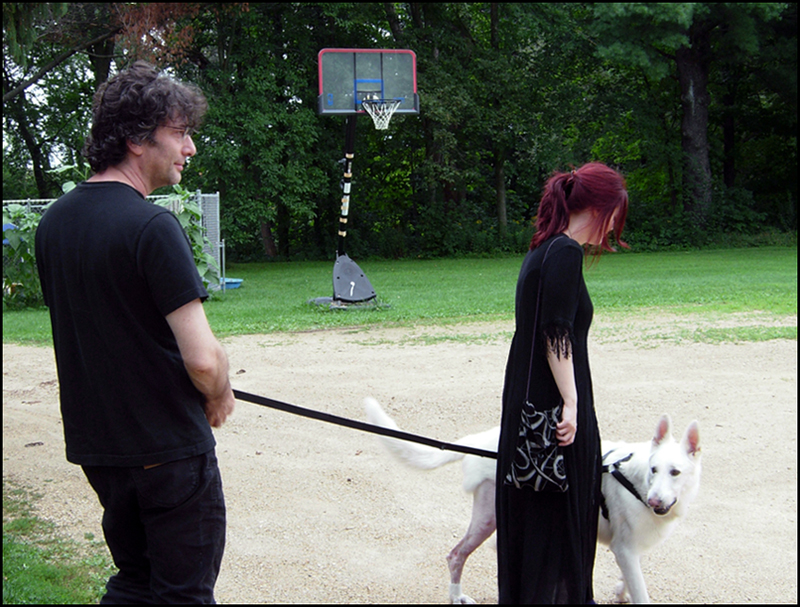 The personification of love, loyalty, fulfillment, friendship, faithfulness, understanding & an unbreakable bond that neither distance, time, nor death itself can sever...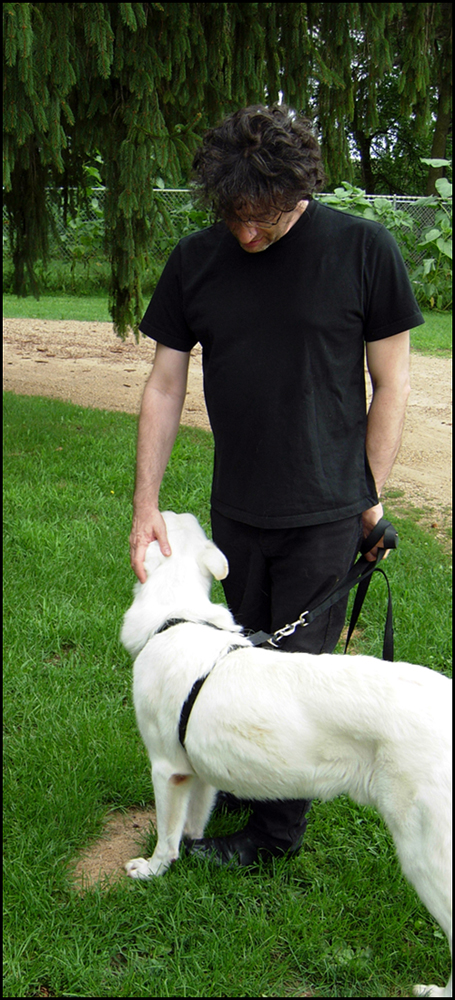 Neil's heartfelt post: http://journal.neilgaiman.com/2013/01/the-power-of-dog-cabal-2003-2013.html

"If Love Could Have Saved You, You Would Have Lived Forever." ~ Within the hearts of those who loved him, I know he always will.

December 28th, 2012
---
08:58 pm - Purple Rain...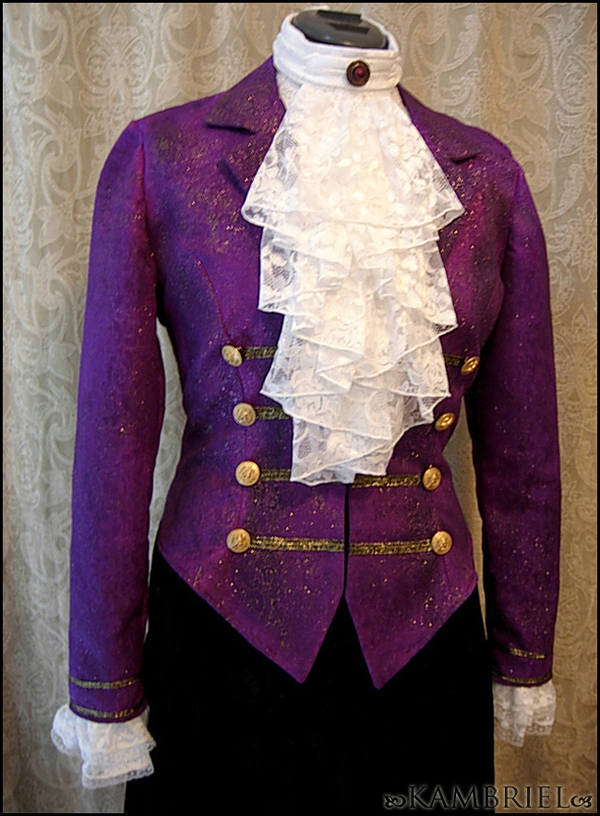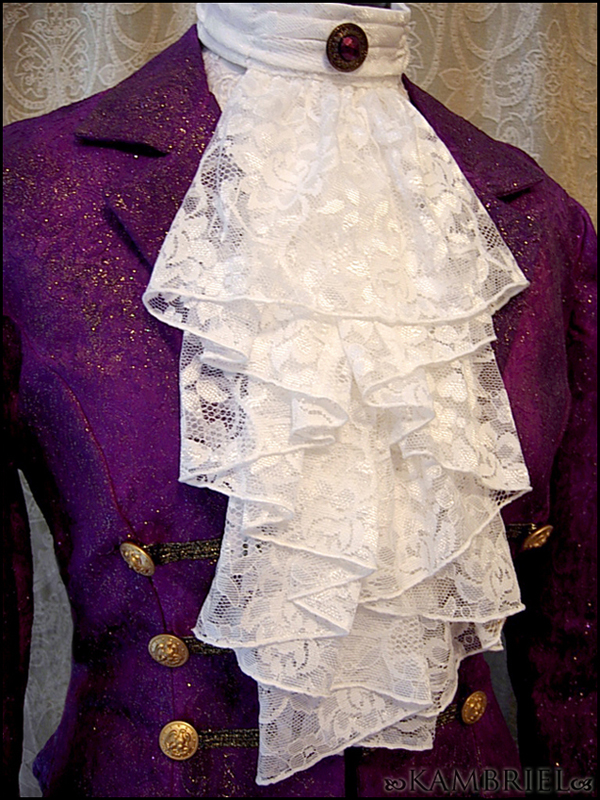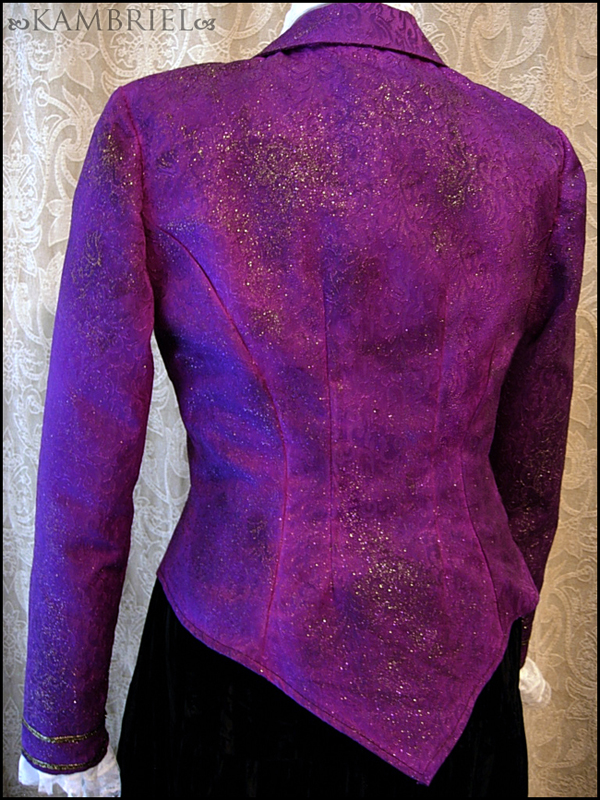 (

dearly beloved...Collapse

)



I've been busy this past week making some brand new custom stagewear for Amanda Palmer! These pieces were created for the upcoming New Year's Eve show at Terminal 5 in NYC wherein the entire "Purple Rain" album will be performed live to wrap up 2012 & ring in 2013. In honour of the performance's muse, I wanted to create a neo-romantic decadent, yet structural look Prince himself would approve of. The jacket design was drafted by hand just this past week & originally made from an intense fuschia brocade which I then layered with four different tones of dark purple, glittering gold & violet paints to achieve a deeper, multi-dimensional shimmering effect. Here's hoping it sparkles under the lights of the stage!

For those attending the show (sadly, due to a huge unexpected expense earlier this month, combined with a snowstorm thwarting the long drive, it looks like I'll have to be there in spirit) ~ keep your eyes peeled and you might also catch sight of a sheer, metallic purple kimono I made for Amanda, as well as a raspberry beret...

December 21st, 2012
---
07:45 pm - Solstice


Wishing you a magical Winter Solstice...

(Photo: DividingMe - Headdress & Gown: Kambriel - Model: Nancy Dee)

December 19th, 2012
---
10:49 am - shifting paradigms
The comment I left in Amanda's blog Dearly Beloved in regards to the Newtown tragedy:


There is so much at root here that goes far deeper than stricter gun control and better mental health access. You can see it in the rudeness of some YouTube comments, in a land where testosterone gels are pimped out on tv as if they were cologne... We must remember the basic tenets of kindness & compassion are true strength ~ not hatred, fear-mongering & rage. The "us vs. them" way of thinking that we see so clearly in politics, in divisions between red and blue (& here's where PURPLE comes into play), the bullying we see in schools, is ultimately one of naivety & insecurity ~ of not realizing we are one, that we're in this together.

That said, I have hope because for as much mean-spiritedness that is out there, I believe there is *more* compassion. For each person desiring to tear down, there are more who will help rebuild. In a world filled with fragile balances, this tugging between the two is something we shall always face. I truly hope this tragedy shines a light on the fact that death by gun is ludicrously out of control in the US, that our profit-above-all healthcare system where people have to debate taking an ambulance or seeking treatment they can't afford is unconscionable compared to many other parts of the world, that if we start looking towards others who are handling certain things better than we are, if we can take the first step of showing some humility & not being too haughty to admit we ~don't~ always have it right, perhaps we can learn from our mistakes, begin to heal & advance.

For those who argue, "But that won't solve things"... 100% solutions are hard to come by. What matters is taking steps that attempt to bring us closer to what's ultimately needed. We don't need access to automatic assault weaponry in our homes that unleash a spray of bullets. Even if those weapons were out of our homes, would it stop violence? No, but it's a step closer to curtailing the madness. (As someone who grew up in an abusive home, I know I would have been that much more relieved had my father not also had a closet full of guns.) Would having access to free mental health care stop all would-be attackers? No, because many wouldn't have believed they had a problem or sought help to begin with; but would it be a good step for people who *can* recognize an issue and need guidance? Yes.

As much power to harm as individuals have, each of us has an equal, if not greater, capacity to help ~ to share what we can, give when it is needed, simply say a kind word & brighten someone's day. We must re-write the script where meanness and not giving a damn is somehow "cool" & stop mocking things like peace/empathy/care. It's up to us to shift the balance and while we can't stop every horror, we can be sure that *we* overshadow it with love.

December 3rd, 2012
---
10:16 pm - kitchen witchery
I got a little creative with dinner which ended up being veggie-infused red quinoa, garlic naan & roasted red pepper soup topped w/honeyed chèvre...

So let's see, South American quinoa, served on an Italian glass plate, red pepper soup served in my great-grandparents' Japanese cup, topped with French cheese, and a piece of Indian bread on the side. What a beautiful world wherein our shared abundance of diverse cultures & cuisines can be brought together in such a delicious way.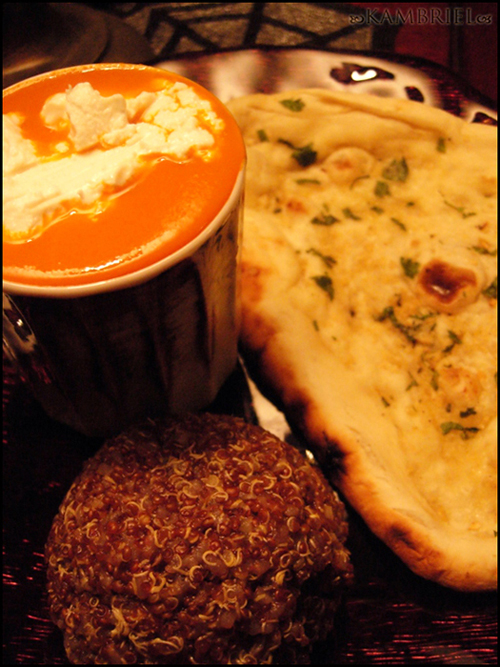 November 22nd, 2012
---
12:17 pm - Giving Thanks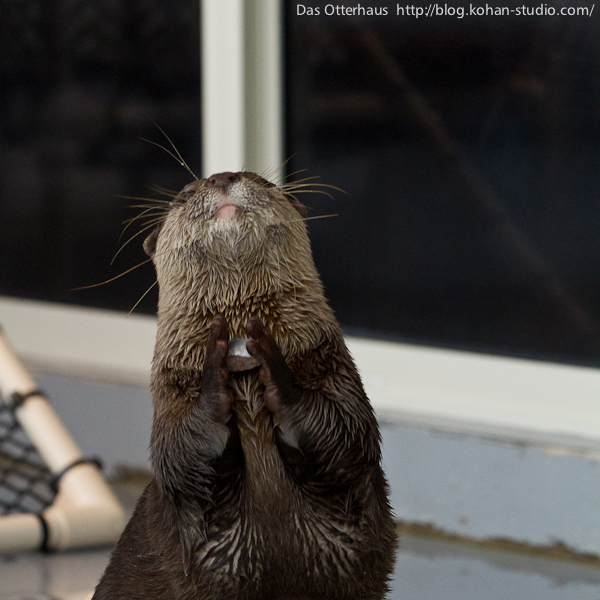 Thank you all so much for your friendship, wit, comfort, caring generosity, and for your support in helping me to continue to create things of beauty to share with you... it's meant so very much to me through the years, and continues to mean more and more with every passing day.

much love,
~ Kambriel

November 17th, 2012
---
10:25 am - Happy Birthday Jillian
Happy birthday dear
cupcake_goth (aka first in line to be "Vampire Queen of the Universe", benevolent bestower of bat-topped cupcakes), I love you so much and treasure you ~ your wicked wit, charm & caring heart... more than words could ever say!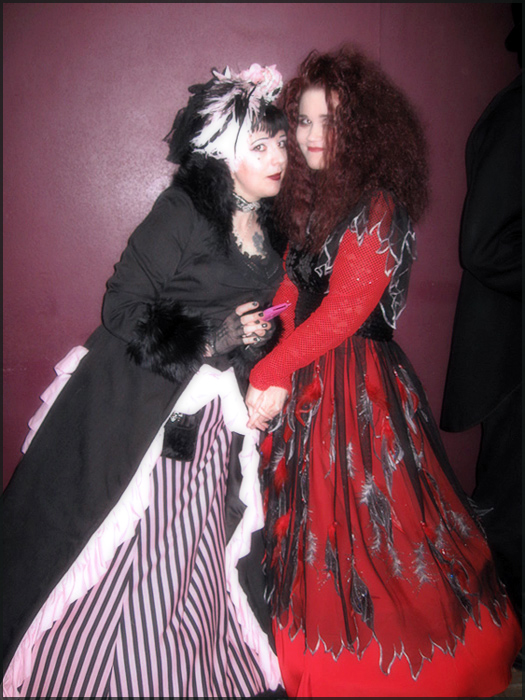 September 15th, 2012
---
06:43 pm
Remember a couple of weeks ago when I posted about how I'd travelled up on a last minute trip to Bard in upstate NY to design/create a gown made from bed sheets for Amanda Palmer to wear in the upcoming video for "The Bed Song" off her new album "Theatre is Evil"? If not, here's a refresher ~ http://kambriel.livejournal.com/334716.html

I think it was the same day I posted that, when Amanda got in touch to say there was another project she might be needing my help on. I jokingly asked if I needed to pack another bag... See where this is going? ;)

To commemorate a New Year's Eve show Amanda & The Grand Theft Orchestra are doing in NYC wherein they'll play Prince's *entire* "Purple Rain" album, they wanted to do a photoshoot with
kylecassidy, inspired by one of Prince's iconic posters for which I'd be taking care of the wardrobe styling. Since there were just a few days before the shoot, I did a combination of sourcing things from my own closet, making some items, and thrifting for others to embellish/alter.

I joked with everyone that I wasn't sure if should be a matter of pride or shame at just how natural it was to find a selection of Prince-ly clothes in my closet... Amanda immediately said, "Totally a matter of pride!" Because, of course I have boxy magenta brocade and velvet kimonos, berets, flounce shirts, lacy jabots, etc... At times, I forget this isn't how *everybody's* closet is ;)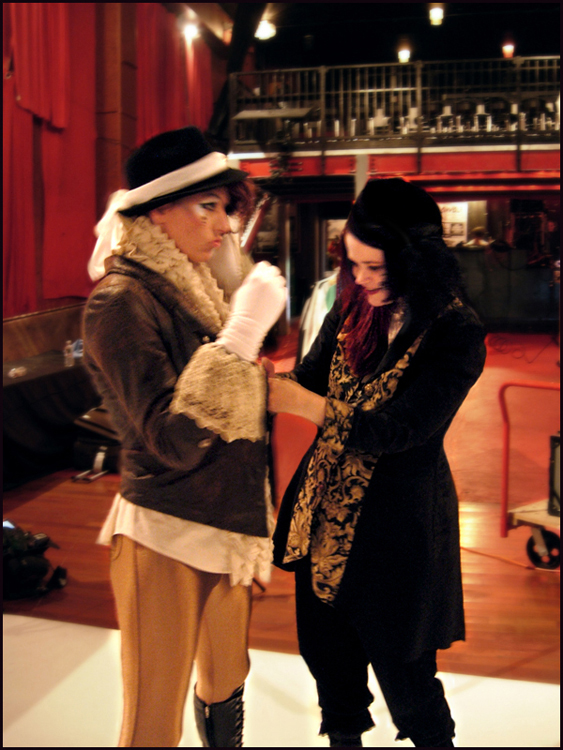 A moment caught in time, unexpectedly captured by Chris while I worked on an impromptu fastening for Amanda's jacket: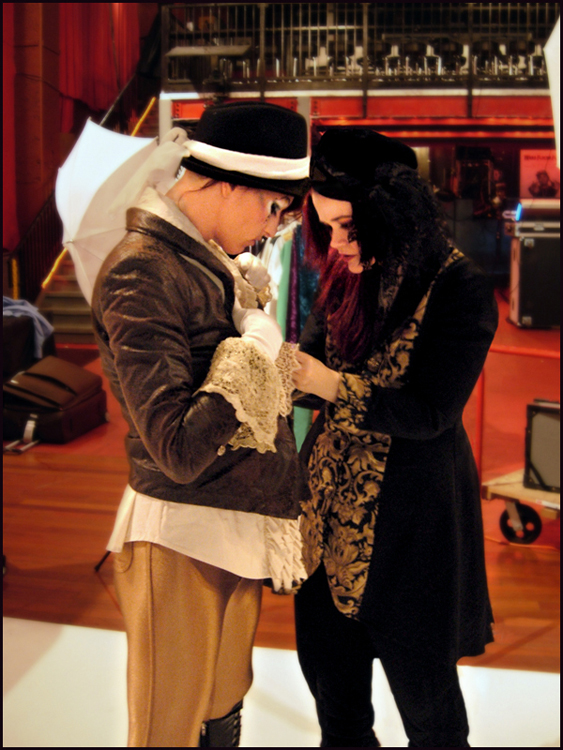 I wish I had a photo of Jherek in his royal purple tailored blazer. He wore it so well, after the shoot, I just told him to go ahead and keep it. The best thing is at the show that night at Midnight, I found out it was his birthday, so it ended up being an inadvertent, yet cosmically-appropriate birthday gift :)

Ryan, Kyle, Trillian & myself, waiting for our ride to the show. Photo by Kate McKinnon ~ who was in Philadelphia that night by the serendipitous happenstance of an overnight layover. It was such an unexpected treat to get to see and spend some time with her: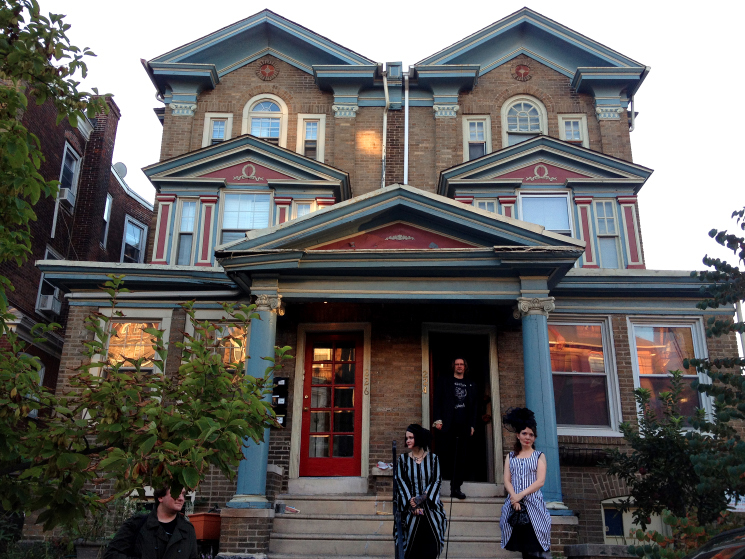 That night, at the tour's opening show in Philadelphia! I loved the lighting they used for "The Killing Type":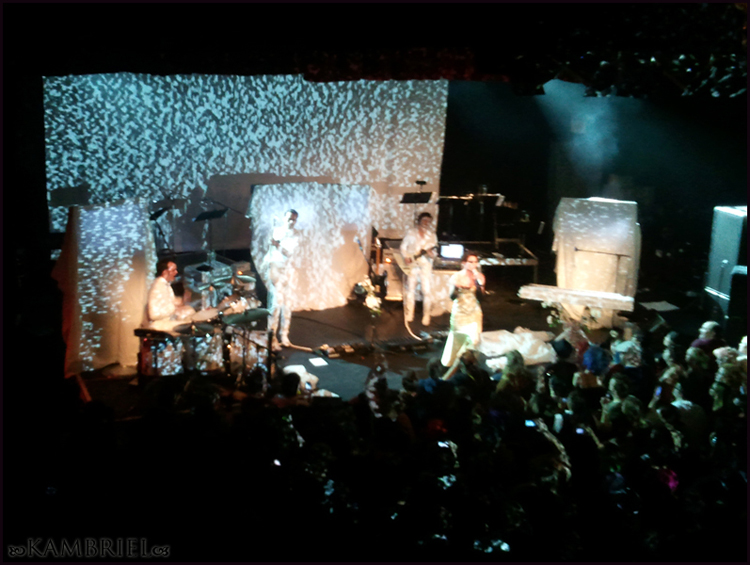 Bated breath... This was to be the first attempt at using the crazy train (apologies to Ozzy) I made which was attached to one of Amanda's pre-existing jackets, using what felt like miles of four different colours of chiffon to give a watery effect which was made to pour out over & be held aloft by the audience while Amanda crowdsurfed to the song "Bottomfeeder". You can't see the end of it here, but the train went back the full length of the stage & then some!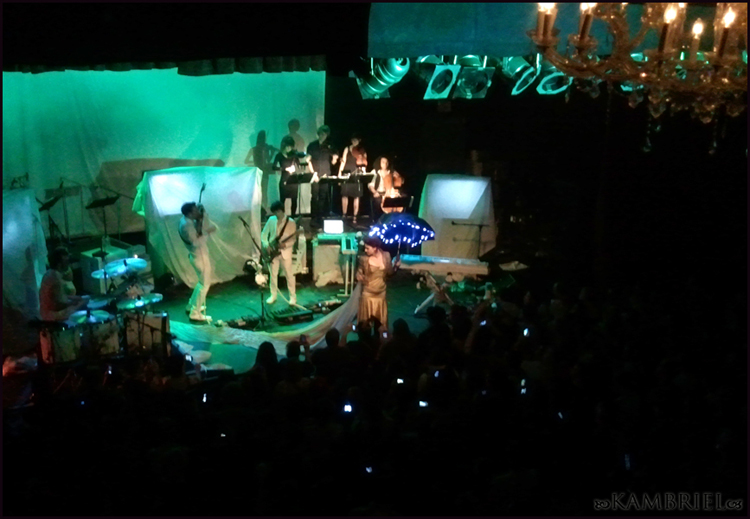 "Do It With A Rockstar" ~ Amanda wore a Frank Sinatra t-shirt for this ;)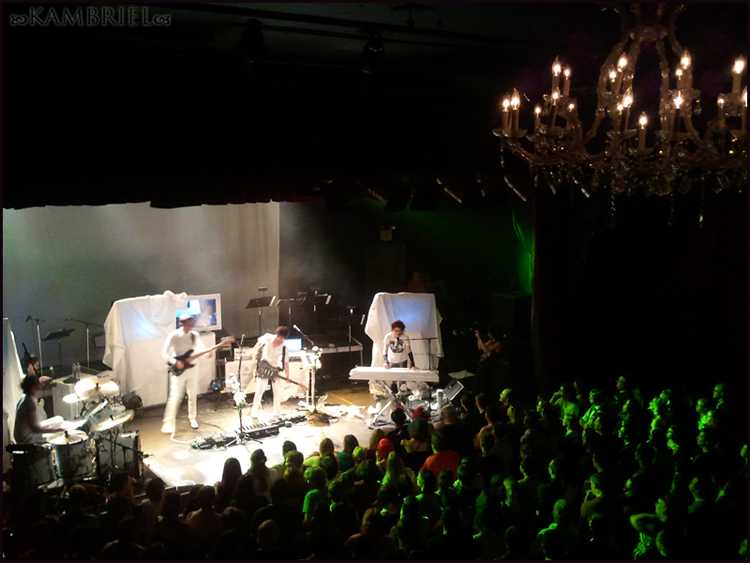 (We got back on the road the next morning since in the middle of everything else, we've been in the process of helping an injured crow recover from a broken leg by keeping a close eye on him and making sure he has clean water and fresh food. Happily, he never lost his ability to fly, and is very clever and learning to manage quite well as he heals. Yesterday was the first day we saw him together with three other crows again, and they all kept close watch and ate their fill of the food we put out for them, so I have high hopes that he's on the road to recovery which makes me so very happy.)

This photo was taken the night before last in Carrboro during "Ukulele Anthem" in a moment of *literally* being supported by the audience. Half a dozen or so people who held Amanda aloft in a seated position for the entirety of the song ~ a combination of their strength, a handy support beam, and years of yoga!

This was also Amanda's first wearing of a new pair of peacock crushed velvet leggings I made for her: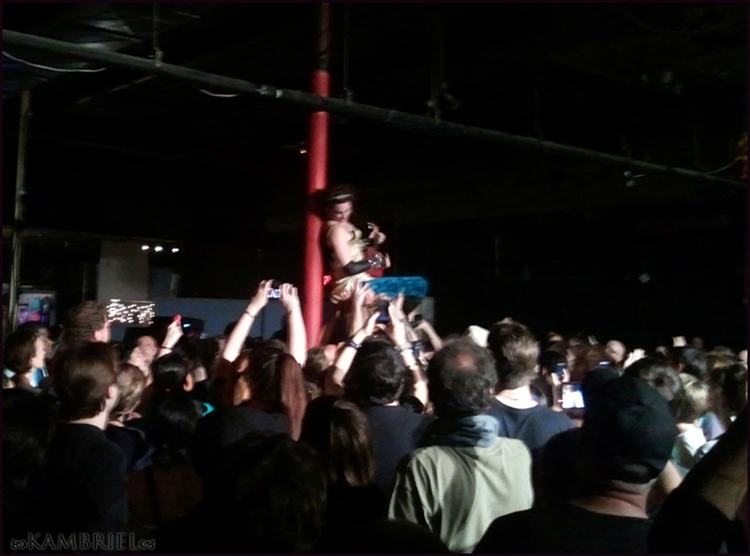 Torch song glamour... Amanda at the very beginning of Bottomfeeder, holding out the upper portion of her immense chiffon train.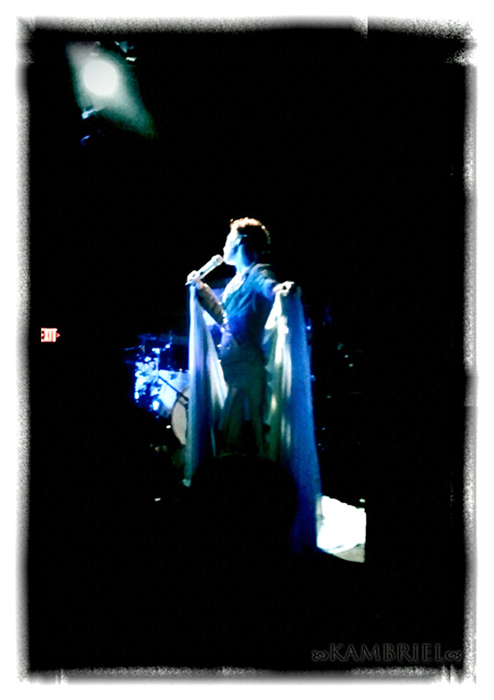 I'd venture to say her entrance into the crowdsurf was quite possibly the most elegant ever:



Floating upon waves of outstretched hands. This amazing moment lasted the entirety of the song, and sent Amanda all the way from the stage to the very back of the venue, around, and up to the stage once more... It was magic:



This photo shows the effect from an aerial view ~ a few nights before in NYC, as photographed by @Lesliedf:



If you can catch one of their performances on this tour, it really is an amazing show. I think one of the things that makes it so special *besides* her exceptionally talented band (who just also happen to be incredibly *nice*), is Amanda's ability to erase the line that normally exists between performer and audience.

In other news, for those of you not on Twitter/Facebook/Tumblr, yesterday Neil Gaiman commissioned me to make him something darker than black....

Also, at the end of this month, I'm collaborating on a show with the inimitable Dame Darcy... hopefully I'll be able to post more details about that soon!

September 2nd, 2012
---
09:49 pm - ~ Silently and Very Fast ~
I've been keeping the photos of the custom gown created in celebration of Catherynne M. Valente's multiple Hugo award nominations, including one for "Silently and Very Fast" (a novella that "explores artificial intelligence through the lens of folklore and twisted family, following an entity from its first moments through a swath of human history and beyond.") under wraps so she could premiere it the night of the awards, but now that Cat's tweeted some photos from the event *happening now* in Chicago, I can finally share! :)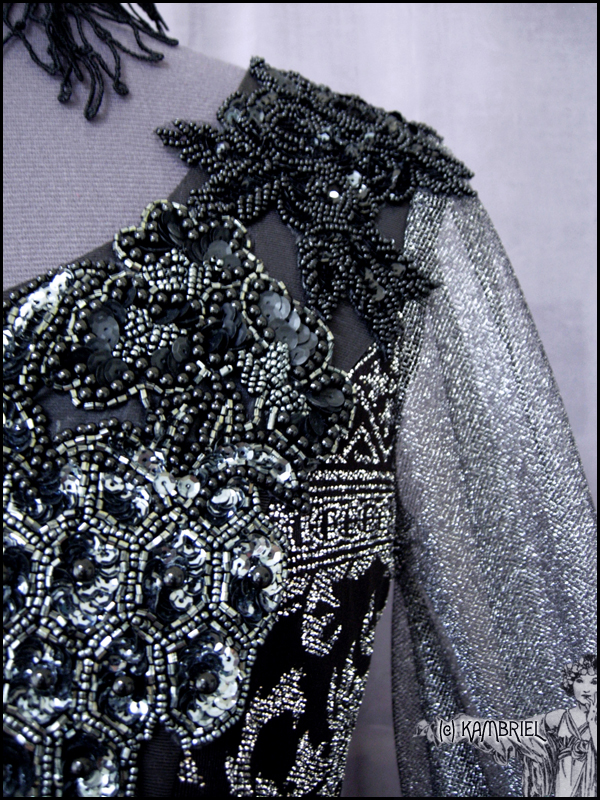 The inspiration was a Space Princess ~ fittingly inspired by her book, combining both Italian & Japanese elements. In these photos, the gown appears to be all black and silver, but actually the glittery Italian scrollwork velvet used in two tiers of the skirt ruffles is filled with an Aurora Borealis iridescence of rainbow hues which reflect the light as it moves in person.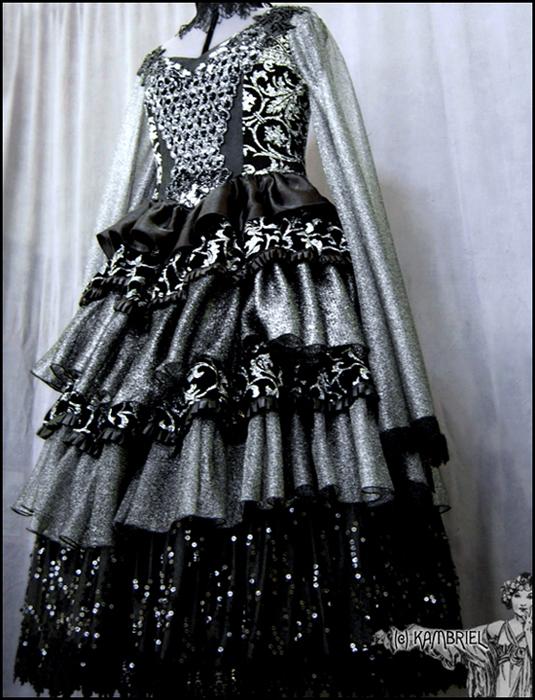 This photo's blurry, but is best for showing more of the velvet's shimmering multi-hued Aurora effect: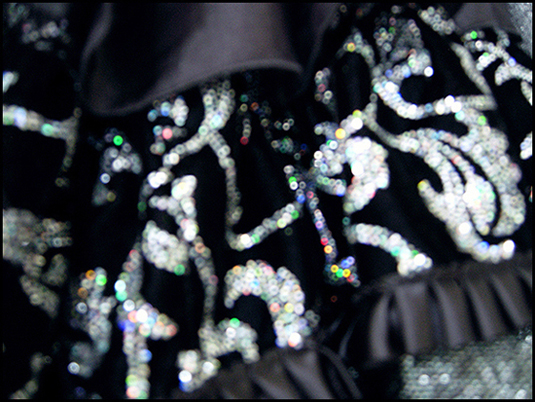 Kimono-esque, dramatically flared sleeves made from sheer metallic Japanese mesh: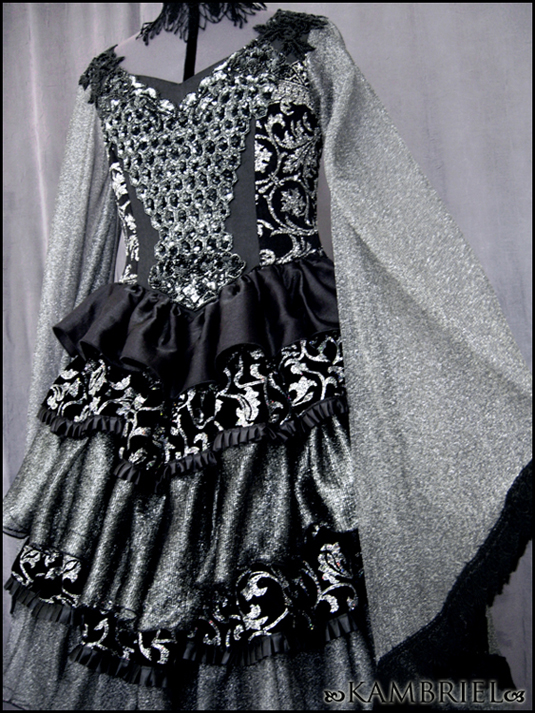 Like starlight in a blackened sky: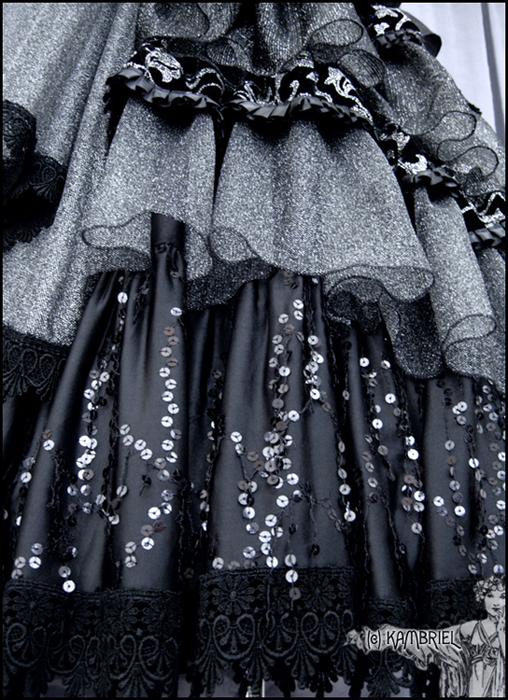 And best of all ~ Cat in the gown tonight, looking absolutely radiant tonight at the 2012 Hugos. Good luck Cat!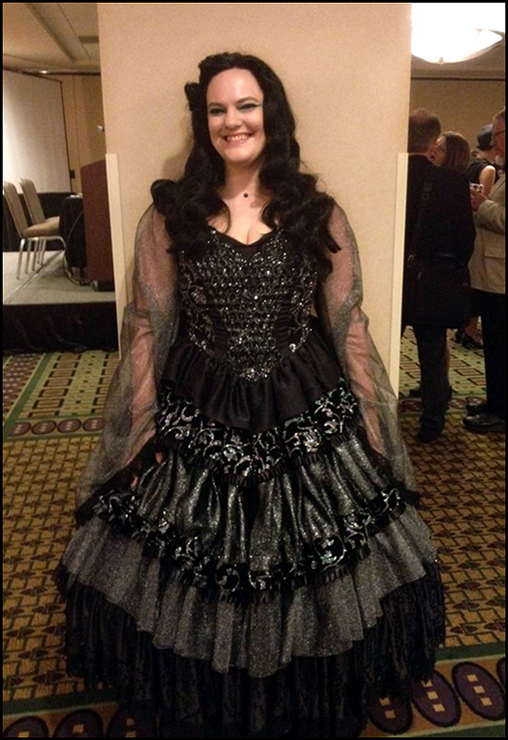 Edit: ~ And she won w/SF Squeecast! So did this lovely gent named Neil for "The Doctor's Wife"... :)
You can see a complete list of all of the talented Hugo nominees & winners here: http://www.tor.com/blogs/2012/09/announcing-the-2012-hugo-award-winners
Thank you for capturing the moment Dmitri!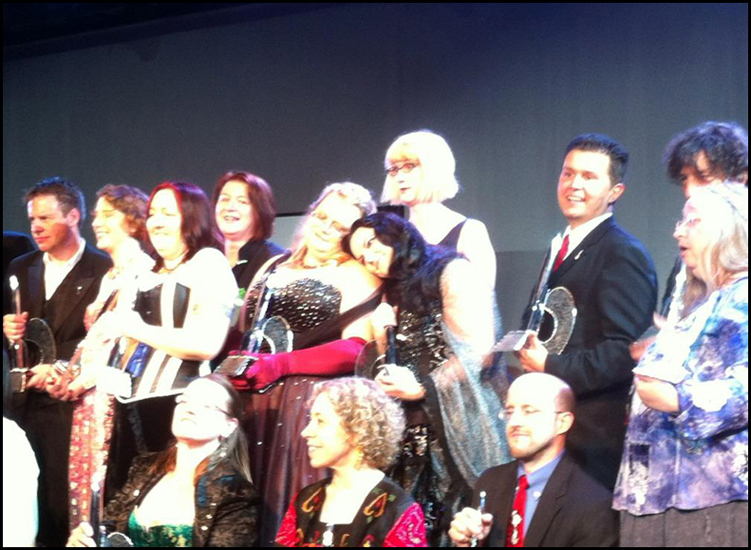 August 30th, 2012
---
09:30 pm - Let's Go To Bed... The Bed Song Video shoot
One thing about me & Amanda Palmer is that we're cut from a similar cloth when it comes to inspiration hitting sometimes without much if any warning, and saying a full-hearted *yes* to things others might see as far-fetched, impossible, impractical, etc...

Such a time happened recently when I got an email from Amanda asking if I might be able to come build a gown made of bed sheets on set for a video they were filming in upstate NY in a week. Within the hour, I'd already sketched out a series of five dresses to build upon one another until it reached a grand conclusion, with each dress tying into a specific verse of the five verse song. At first, it seemed like it would need to basically be made in the film version of real time ~ almost like a stop motion design coming to life before your eyes, which seemed both exhilarating, and a huge honour to be entrusted with, but also like it really needed to be amazing since it didn't seem there would be much else to the video other than Amanda, the piano, and the organically growing gown being created before everyone's eyes.

In the next few days, things morphed, concepts evolved, and I got a clearer picture of what was being planned. There would be actors, sets, theatrical vignettes interspersed with Amanda playing the piano, laying her heart bare through song. I'd still likely need to create the look on set when Amanda & I could bounce ideas off of eachother in person, and I could wrap the fabric around her, but now I had the luxury to begin a bit of work in advance ~ with just two days to go before flying to NY!

~~~~~~~~~~~~~~~~~~~

As soon as the plane landed in NYC, I was faced with this ~ the question of course being which kind of omen? I asked the universe for a sign, but in the meantime decided it would either be a good one, or at least a Zen-neutral one.
Remember kids at home... you can't have a proper omen without women!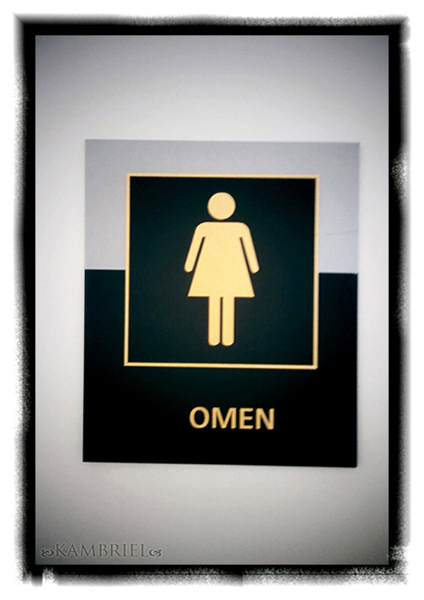 (

A Tale of Five Beds ~ Click here for Photos Galore!Collapse

)

Here is the architectural jewel that the video was being filmed within at Bard College ~ our inspiring theatrical home away from home: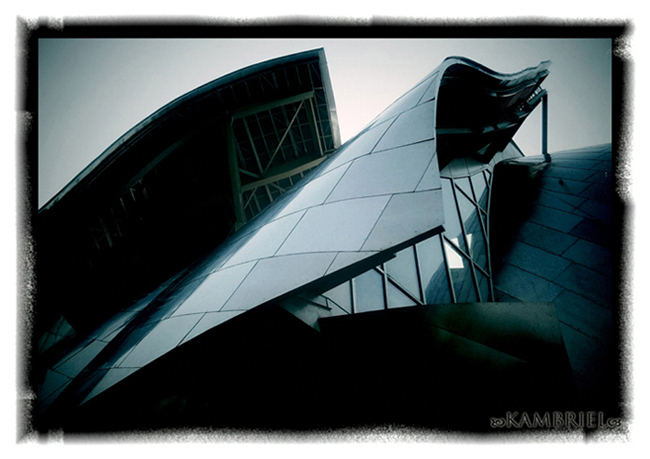 (
Read more...
Collapse
)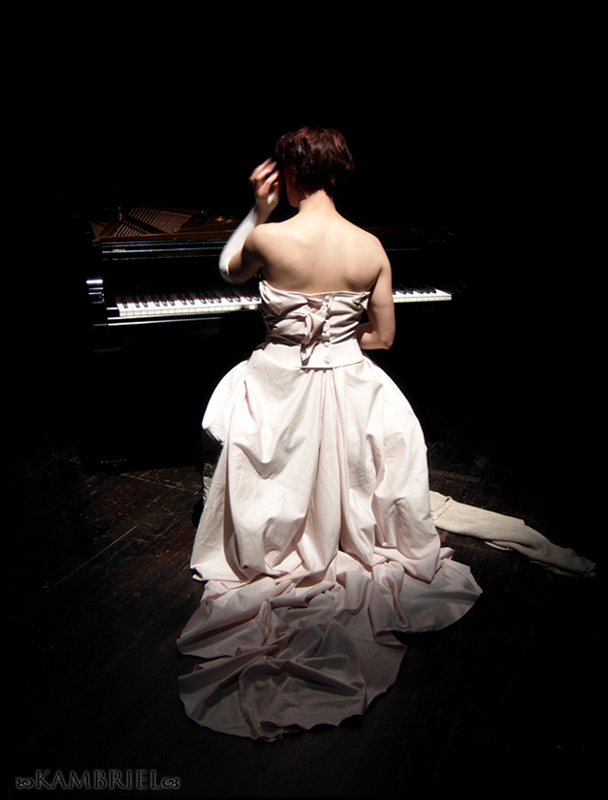 (
Read more...
Collapse
)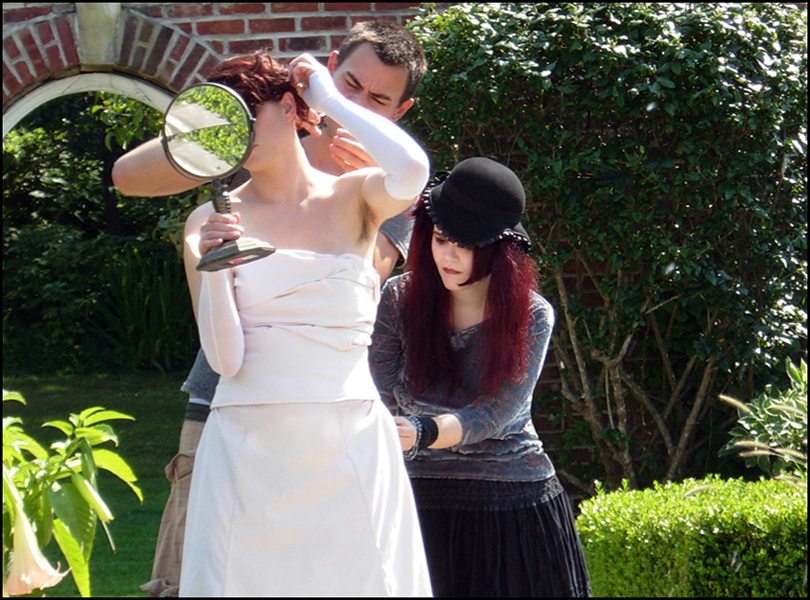 (
Read more...
Collapse
)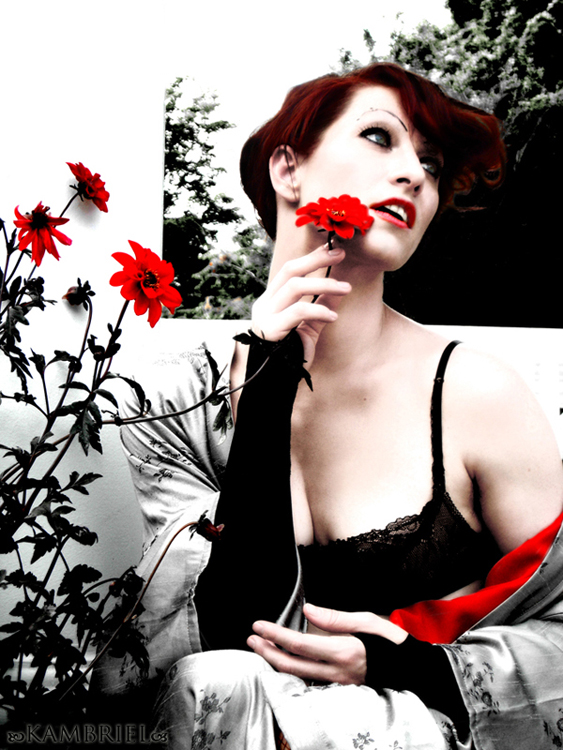 Be Adventurous,
~ Kambriel

August 9th, 2012
---
August 7th, 2012
---
10:32 am - TOME - including Kambriel as a featured artist, to be interviewed by Neil Gaiman
Today is the final day to back the exquisite TOME project on Kickstarter! Including a massive 12" x 18" art book, cd compilation, and film documentary, this first edition of TOME focuses on the theme of VAMPIRISM.

It's a true honour to have my work (with photography by Visioluxus, Kyle Cassidy & more) included within the pages of TOME as one of their featured artists. To have clothing design seen as an art form in itself ~ like paintings come to life, sculpture meant to be worn... means so much to me. Please be sure to check their Kickstarter page for a list of the *many incredibly talented* creative individuals adding their own artistic vision to this.

Here's a bit more on the project:

"Modern popular culture has shown us all kinds of depictions of vampires, from the silly to the subdued. Featured artists in TOME will each take 3-5 pages to explore what we think is a unique and relevant take on vampirism as a whole, including the misuse of power and the objectification and exploitation of others. And at the conclusion of each artist's contribution, they'll have a one-page interview conducted by another artist to continue their artistic exploration."

**And more exciting news**

The featured artist interviews within TOME are being done by fellow artists in order to keep the questions creative ~ a way to delve into topics beyond more standard interview questions. The Kambriel artist interview for the book is being done by none other than the wickedly gracious Neil Gaiman.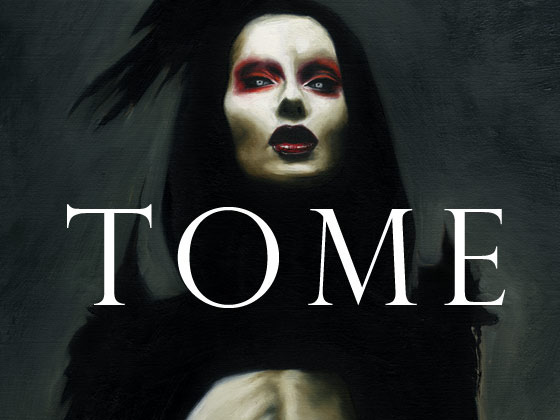 From TOME:

* NEIL GAIMAN interviewing KAMBRIEL

International best-selling writer Neil Gaiman will be interviewing featured artist Kambriel for TOME! Neil is an English author of short fiction, novels, comic books, graphic novels, audio theatre, and films. His notable works include the comic book series The Sandman and novels Stardust, American Gods, Coraline, and The Graveyard Book. He has won numerous awards, including Hugo, Nebula, Bram Stoker, Newbery Medal, and Carnegie Medal in Literature.

They have a wide variety of pledge options starting at just $1, ranging up to those including stunning art prints and more, but $60 for the 12"x18" limited edition oversized hardcover anthology first edition of TOME (including domestic shipping) + the accompanying cd, is really quite amazing. It's going to be selling for easily twice as much later on, so this is an excellent opportunity to get a copy of the book at a significantly reduced price... not to mention, the book should be ~amazing~.



August 6th, 2012
---
09:09 pm - Cicada song
Tried to save a drowning Cicada today... Instead, gave her a peaceful place to pass, and heard her very last intermittent, crackly song.

I really hoped she might beat all odds and make it, but this was not to be (not for lack of trying). She'd been found floating on her back in a pool, where she'd been for goodness knows how long ~ probably blown in by the wind of a previously approaching storm. At first thought to be already dead, once removed from the water, she started to move, very slowly... laboriously. After a while of keeping other little bugs away from her to give her a circle of space in which to be left in peace (whilst hopefully recovering, drying out and getting some air back into her lungs), she started to whir up and make little sounds like an old radio. Not the strong, nearly deafening, rapid fire staccato of a healthy cicada, but a softer crackling, that rose up for a while and quickened in pace ~ then became dim, with telltale percussive tones spaced out 'til she slowly crossed her legs beneath her and all fell into silence once more.

There were other cicadas in the nearby trees, and I'd like to think if nothing else that getting her out of the water gave her the chance to sing this last song, to say her musical goodbye, in the warmth of the midday sun...

Sweet eyes like speckled olivine agates, a forlorn determination: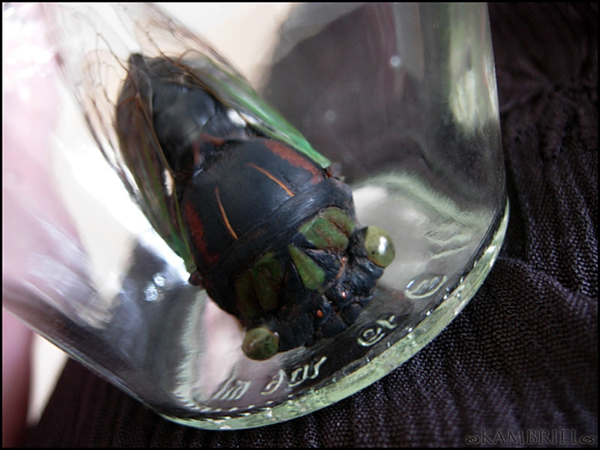 In this photo, you can better see her magnificent scale: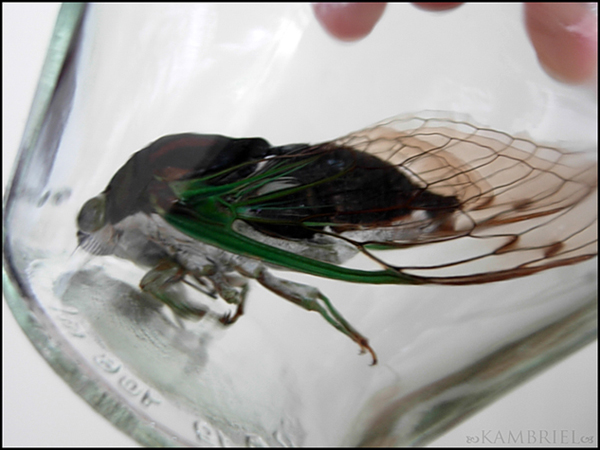 Wings like stained glass, Nature's iridescent filigree: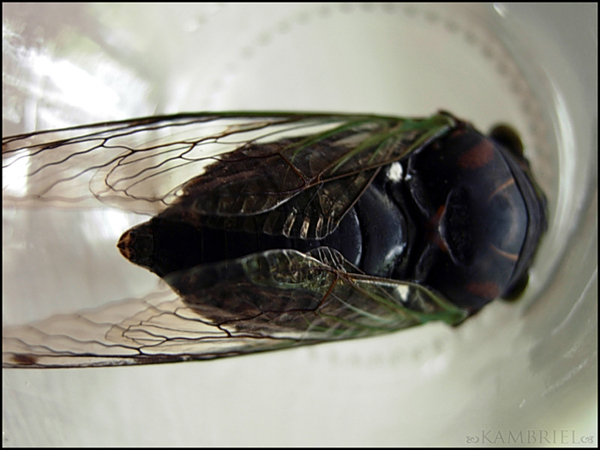 Placed in the watchful gaze of Guanyin, goddess of compassion. The name Guanyin, derived from Guanshiyin, translates to "Observing the Sounds (or Cries) of the World"... so very fitting: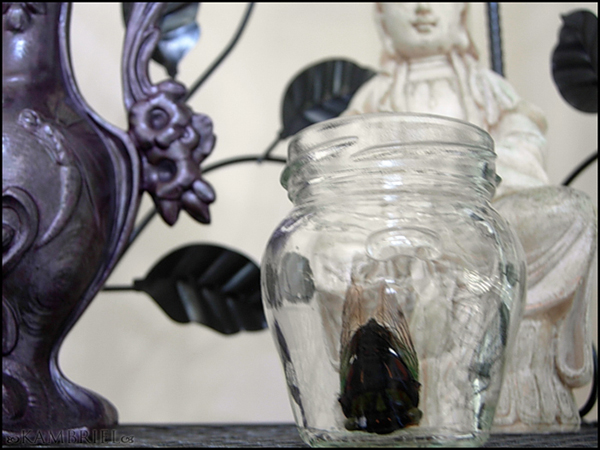 July 16th, 2012
---
10:42 am - Another Star flashes across a Midnight sky...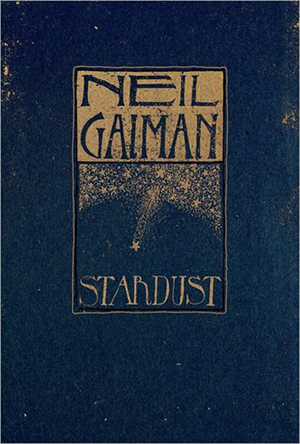 In seemingly perfect timing as details of Neil Gaiman's newest (and absolutely enchanting, antique-inspired) upcoming editions of "Stardust" are about to be released, so too has there been a kind of reincarnation of this coat worn by the grey ghost spirit of Prince Septimus (Mark Strong) in the 2007 Stardust feature film.

Neil had this coat, treasured alongside some other Stardust wardrobe pieces in his personal collection, but rather than merely have them hanging around for posterity, he wanted them to be transformed into something that could be *worn* and actively enjoyed. It was a real honour that he entrusted me with this, and in reverence to the original pieces, I wanted to make changes that would be significant in improving their wearability and Neil-ness, whilst still respecting the creative workmanship & sentimental history of the originals.

Luckily, I was able to have Neil try the coat on in person when I was visiting him at his house a while back & the coat originally had rather spidery long + extremely narrow arms, so they needed to be both shortened in length & given a bit more room as well... You'll notice they have a split seam so they would flare out over the hands. I looked at them, and began to think, "What if I were to cut off the bottoms of the sleeves and turn them on their end, so that the flare could work *with* the shape of the forearm?"...

I felt the coat would also be more wearable (especially for Neil, taking into consideration all of the travelling he does, and how this tends to require fitting things into luggage in rather cramped quarters) if it was given a somewhat shorter, more tapered overall length. This would also help to reduce some of the weight of an otherwise very heavy coat. Whilst I was at it, I wanted to see if some excess wrinkling/sagging that the leather had undergone from stretching out in places through the years could be worked out a bit for a smoother effect.

A quick snapshot of the "before":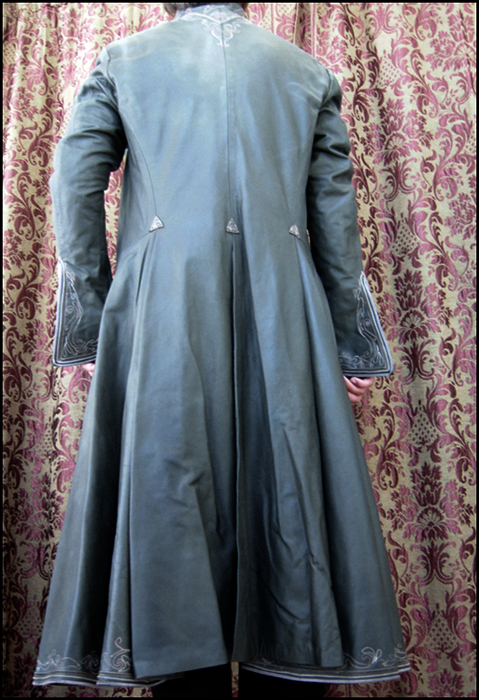 I'd be needing some coordinating material to work the new sleeves from though... I wanted something non-leather, so after going through samples of what seemed like every shade of grey wool known to man in a weight that would hold up to the heft of the leather, but never finding *quite* the right one, another thought occurred to me...

Why yes, Septimus' trousers did have a split seam, and why yes, that sueded velvet did have such a nice weight, and of course having originated from the same outfit, the shades would go...

Dare I sacrifice them??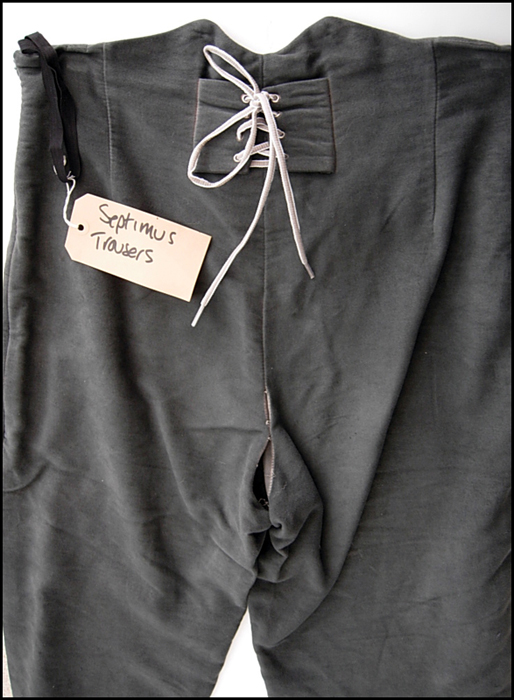 Indeed, yes :) A moment's bravery and it is done... enter magical scissors that hath no fear!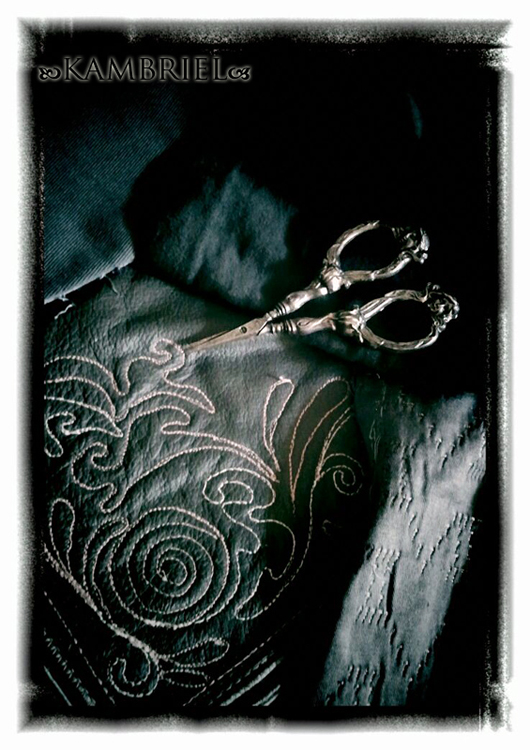 Et voila ~ the trousers have transformed into a new pair of tailored sleeves! You'll also notice what used to be the lower edge of the original sleeves is now the upper edge of an extended standing cuff. I slipstitched most of the cuffs original side vents closed as well to give them more structure for a standing style.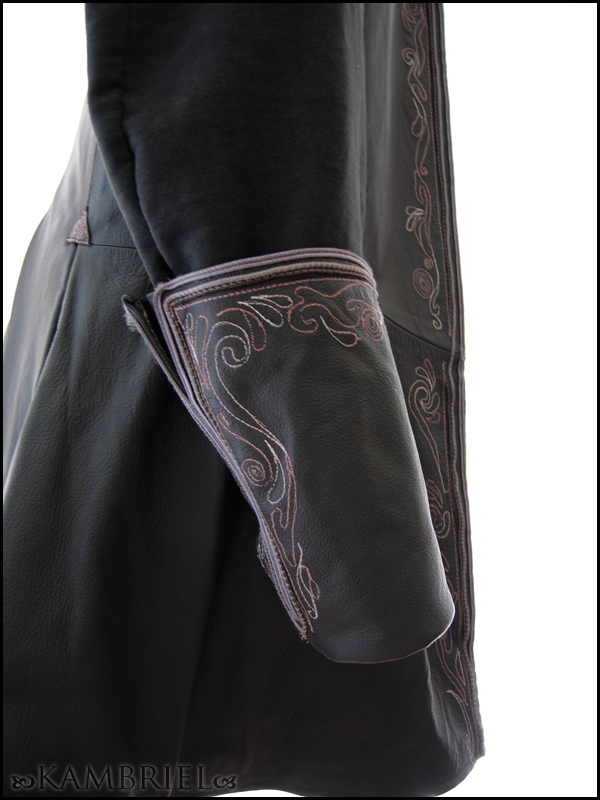 And here is the newly re-shaped hem ~ shorter in the front, dramatically tapering down to longer, pointed tails in the back: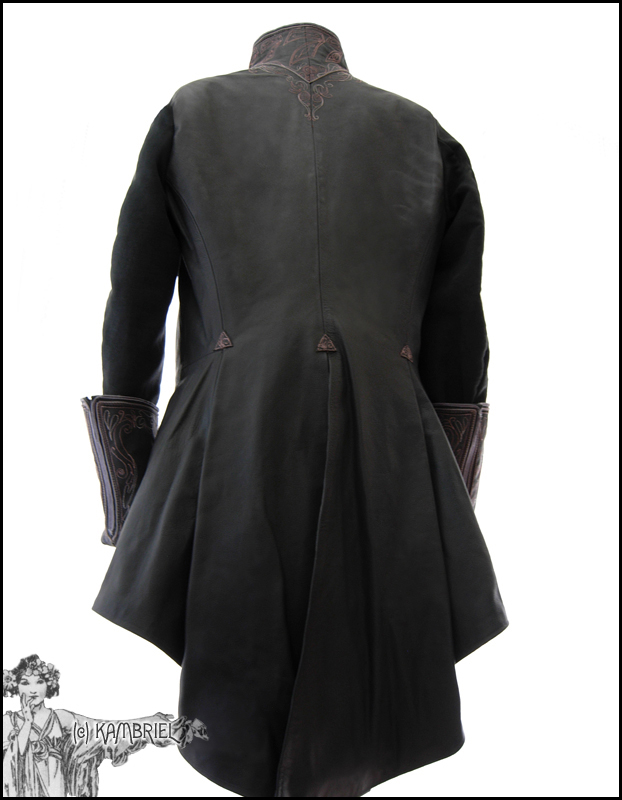 What you can't see is also the addition of several internal pockets as the original design had none. Ghosts have no need for pockets you see, but very-much-alive authors do indeed. No photos of those. I figure a man's interior pockets are his own private affair. ;)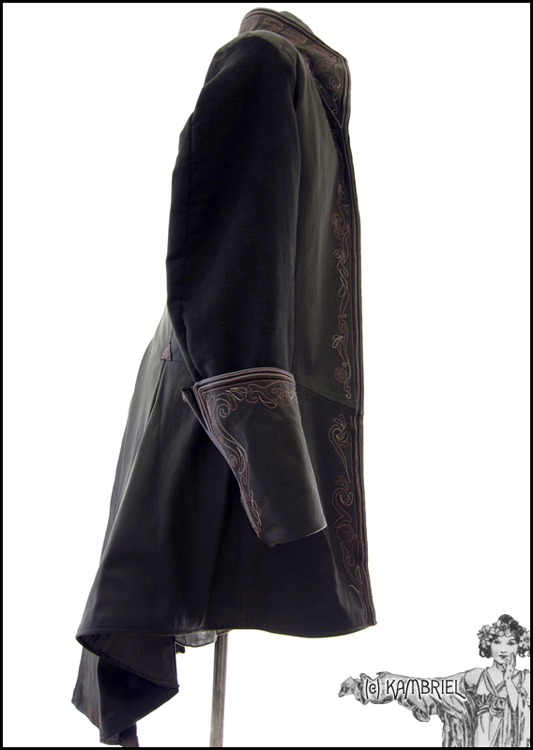 Detail of collar embroidery: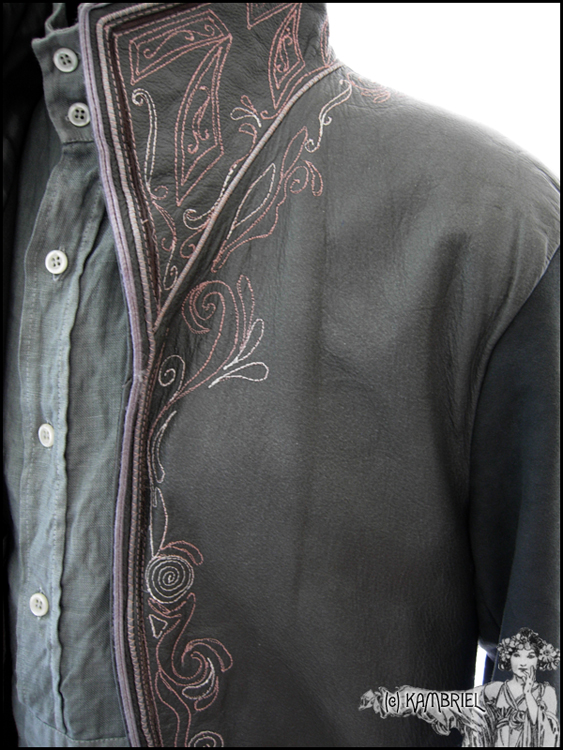 I'm so glad to have been able to take this coat out of the spirit realm and bring it back into a new life ~ here's hoping it has many more adventures yet to come!

all my best,
~ Kambriel

June 21st, 2012
---
03:14 pm - Supporting a cellist songbird... Ashia's Kickstarter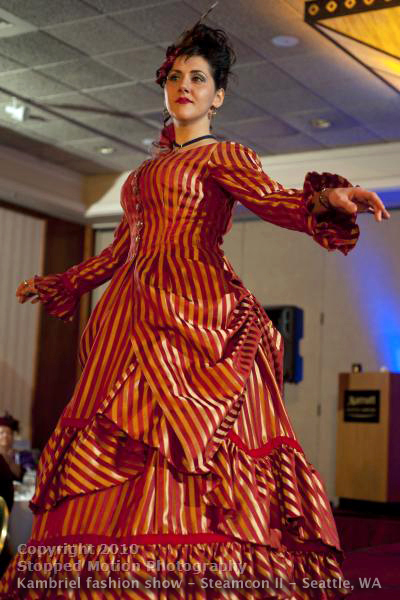 The talented & charming cellist/songstress Ashia Grzesik (who I first had the pleasure of meeting when she was kind enough to model in our Steamcon II fashion show in Seattle) is in the last 30+ hours of her Kickstarter, and I wanted to share the link for those of you who haven't yet seen it.

She's made her initial goal of $4,000, but is hoping to hit $7,000 in order to also make a vinyl version of her upcoming album. I hope she makes it & some of you might be able to help get her a little closer to this goal... Either way, take a few moments to watch her eclectic, witty & ADORABLE video. Seriously, it's one of the cutest I've seen on Kickstarter :)

http://www.kickstarter.com/projects/1405327185/ashia-and-the-bison-rouge-cellist-songbird-records

Good luck Ashia!

May 31st, 2012
---
10:01 pm
This is making me so happy right now: http://partyontheinternet.com/

Amanda & co are thanking Every Single Person that supported the Kickstarter. All 24,000+ of them.

It is a beautifully genuine show of deep appreciation, and absolutely heartwarming. I'm so glad to have not only contributed art for the art book that's being released in conjunction with this, but to be a backer as well. This is all about putting the power of creative decisions back in the hands of the artists, and by her succeeding at this, we all take a step forward.



♥

I even *somehow* caught the moment on screen when Amanda held up and shouted my name (that's her shouting in the corner of the photo)... so cool :) And Neil & Kate brought everyone pizza.

♥