April 13th, 2015
---
04:01 pm - Another journey around the Earth's Sun
The best gift of all for my birthday (or any day)? A heart filled with love and gratitude for you all... Thank you beyond words for being my cherished family of friends.




(I found this fuschia bud on the ground and it couldn't be more perfect ~ thank you Nature.)

~ Kambriel

[Kambriel.com ~ Etsy ~ Twitter ~ Tumblr ~ Facebook]

December 24th, 2014
---
03:45 pm - Sending out love & holiday wishes filled with peace and merriment for my family of friends!



In the coming year, may you find kindnesses multiplied, bravery when needed, magic in the little things, and at least one dream come true.

~ Kambriel

[Kambriel.com ~ Etsy ~ Twitter ~ Tumblr ~ Facebook]

November 26th, 2014
---
03:48 pm - Il Sonno Poeta
Evoking a sense of timeless mystery, and everyday magic… (aka, that time I got Neil to wear a cape)

Photos of Neil Gaiman by DividingMe
wardrobe/styling: Kambriel
design shown: Black Wool Wrap




This shoot was an absolute blast (more images forthcoming on Twitter, Facebook, and Tumblr), with Neil being such a willing spirit to my odd whims ~ and much tea, hugs, sinister Victorian-esque plottings, and laughter was shared that day.

Also, I really adore that this was tagged "cozy Autumnal necromancer style" on Tumblr.

(I've had a few people ask if the wrap can be made in custom colours, and yes it most likely can ~ just send a message via this page, where it's also available in black, black, and... black ♥)

~ Kambriel

[Kambriel.com ~ Etsy ~ Twitter ~ Tumblr ~ Facebook]

November 3rd, 2014
---
01:41 pm - "Memory is the diary that we all carry about with us." ~ Oscar Wilde
"Happiness held is the seed; Happiness shared is the flower." ~J. Harrigan

It's been a busy few weeks since the seed was planted here: http://kambriel.livejournal.com/353164.html to create a kimono for Amanda Palmer to wear on her "The Art of Asking" book & concert tour, completely out of crowdsourced fabrics mailed in from around the globe, but it is now complete!




Going back in time a bit to its nascent stage... Here's a partial view of some of the many "raw materials" which arrived:




Not knowing how much/what conditions/types of materials would come, I was concerned about how many I'd actually be able (or ~not~ able) to use. It was important to me that everyone who sent something in would feel represented, in gratitude for their generosity of spirit in sharing sentimental pieces of their past to create something new from the combined memories. I'm thrilled it worked out so I could use at least one piece from *everyone* who sent in something that arrived by the deadline. I quietly extended the deadline a few days before piecing things together, so ones that arrived 3-4 days later were also incorporated into the finished piece.

Everything was cut into cohesively sized squares. Some were a bit too delicate on their own ~ in those cases I combined them with other delicate pieces, often as sheer overlays, or reinforcing them on the reverse. I thought this was a lovely symbolism for being supportive & giving eachother strength when needed.



(

Click here for more photos & stories!Collapse

)



From the leftover pieces, I've made some fabric boas that Amanda can give away as gifts during the tour. I figured this would be a way to continue the cycle of giving, receiving, giving back...




Thank you beyond words to all who participated. It was so very gracious of you to share these parts of your past with us, and I hope you enjoy seeing them re-incarnated into a creation that shall be filled with many new memories & experiences yet to come!

~ Kambriel

[Kambriel.com ~ Etsy ~ Twitter ~ Tumblr ~ Facebook]

October 30th, 2014
---
06:23 pm - Ophelia Dreams & Haunted Things ~ Hallowe'en in the Bat Cave
Here are some photos I took a few days ago in Bat Cave, North Carolina... (which I hadn't intended to visit, but serendipitously crossed paths with along the way to somewhere else).

This house/shoppe I spotted from the roadside reminded me of one of the first places I ever lived ~ a gothic white Victorian farmhouse in the same mountain setting, but despite its outward grandeur, cost around $75 a month (in the 1970's) and had no modern amenities... Pots of water had to be heated to fill the tub for baths, and as a baby/toddler I slept in the attic with the "black birds", which I later learned were bats.




This building became even more beautiful upon closer inspection... There were panels of glass missing from some of the windows, which added to its Autumnal charm ~ leading to visions of gauzy curtains blowing aloft in rooms filled with chill breezes:



Follow the shining pumpkins to find your way down to the river...



Spotted on the Flowering Bridge... the premature burial of a pumpkin.




An icy river to wash away that which needs to be released...




Apple Cider doughnuts, fresh from a farm ~ a warm & welcome treat after a breakfast-less morning precursed by a restless night. Being so very grateful for the simple beauty and comforting atmosphere of this newfound farm, I bought what might be considered an embarrassment of their baked goods and steaming cider. I unabashedly tried samples of everything they offered, and ended up buying full-sized versions of them all! (O.K. the samples were of just three items, but still ;)) Apparently, the farm closes to the public from late October 'til Summer, so I caught them in the nick of time. It's a pity knowing they can't be visited again soon, but I appreciate this in a world where so much is expected to be available at our instant beck and call. That's not how much of the world works in its natural state of growing seasons/dormant times, and sometimes it's best to respect these rhythms of life, wait 'til the wheel turns, and appreciate and remain open to the variety of what we're given in between.




Sending love to all ~ on either side of the veil of life.

~ Kambriel

[Kambriel.com ~ Etsy ~ Twitter ~ Tumblr ~ Facebook]

October 3rd, 2014
---
11:11 am - Invitation To Be Part Of Our Crowd-Sourced Kimono!


In the spirit of Amanda Palmer's new book "The Art of Asking" ~ which is being released on 11-11 and inspired by her TED talk, we want to invite you to be part of what she'll be wearing on the tour! Basically, I am making her a crowd-sourced kimono (which surely many of you who are going to Amanda's book signings may ultimately be getting hugged in).

Do you have an old band t-shirt, or other nostalgic, yet part-able with clothing/fabric item (I'm thinking shirt weight for the most part ~ nothing too heavy or bulky ~ and at least 12" in the smallest direction) that you'd like to possibly have incorporated into the patchwork design? If so, you can send it to: (EDIT: Deadline has passed, thank you to all who sent things in!)

*BONUS POINTS FOR FRESHLY LAUNDERED*, but please make sure it's clean before sending (thank you!) :)

The book tour starts November 10th, so I'll need to begin working on this as soon as possible. Please mail the piece/s you'd like to submit for possible inclusion to arrive by October 2Oth. If more arrive than we can use, we'll figure out something fun to do with the extras ~ perhaps they'll show up at a future Amanda show in a giveaway box to spread the love amongst her fan-family, or be donated to the costume department at Bard for students to create with. If you have a little story to go with the shirt/fabric, please feel free to include that as well because a.) I get inspired by the energy & stories behind pieces while making things, and b.) if it isn't used, it would be nice to try & keep the story with it for its eventual owner to discover... Safety pinning it to the fabric would be awesome, and if you don't wish to include a story/memory and want to let it remain a purely aesthetic, enigmatic mystery, that's fine too!

Just to give an idea, here's a panel skirt I made with an old Cure "Disintegration" t-shirt:



And here's the purple metallic kimono I made for Amanda's NYC New Year's Eve "Purple Reign" extravaganza:



Combine those ideas with the patchwork image above (from "Jugend" magazine, circa 1900) and you'll start to get the idea :)

I'm looking forward to seeing what you send & thank you for helping me create something special for Amanda to wear so she can carry a piece of so many of you with her as she embarks on her first-ever book tour.

~ Kambriel

[Kambriel.com ~ Etsy ~ Twitter ~ Tumblr ~ Facebook]


Amanda's blog post about the project: http://amandapalmer.net/blog/20141003/

UPDATE: You can see pictures of the completed kimono here: http://kambriel.livejournal.com/354216.html

September 22nd, 2014
---
01:35 pm - Blackened Wings & Dreamlike Things
Last month I got an email about an opportunity/contest to "Design a show-stopping shawl for Stevie Nicks". I was immediately inspired & began work on it right away ~ here's the finished result!




Voting starts today! I'd love if you could go take a look, and vote if you feel moved to do so :) Many beautiful/sentimental/artistic pieces have been made or sketched for this, and I hope Stevie (& everyone!) has a wonderful time going through all of the pieces she's inspired.

https://www.talenthouse.com/i/416/submission/137334/93a60220

~ Kambriel

[Kambriel.com ~ Etsy ~ Twitter ~ Tumblr ~ Facebook]

September 8th, 2014
---
12:01 am - The Power of Three - Part III
Part 3 (here are Part 1 & Part 2) of three days of posting three positive things:

Thing the First: Helping Others. One of the most beautiful things we have the capacity for is compassion, and the real treasure is in taking the next step from compassion by turning it into tangible help for others ~ either through hands-on help, or by enabling others to do the helping.

I was at a raptor center the other day where they rehabilitate injured birds, and for those whom can't be released, provide dedicated, long-term care. Walking through the pathways, visiting with and reading about the individual birds, I noticed one that's been in residence since 1986 ~ so they're in it for the long haul. Not only that, but the birds all seem very well cared for, are fully attentive & look great. One time a raven there surprised me by mimicking my vocalizations with perfect-pitch after I started talking to it! Hearing your voice come out of a raven's beak? ~pure magic~

Whether it's raptors, bats, oceans, the homeless, the disaster-stricken, or even just a neighbor who could use some company or a surprise gift of dinner being brought over, find something you care about, and figure out a way to turn that care into a verb. It doesn't have to be a big, popular cause & your help/time/effort/donation doesn't need to be huge to matter. Think back to when someone's said a kind word out of the blue, extended an unexpected gesture of kindness, or took the time to listen and be there for you, and how much that meant, the difference it made... We all have the capacity to do this for something or someone else.





Thing the Second: Vegetarianism. *Caveat: I don't judge others for not being vegetarian, much like I don't judge negatively for having a different spiritual practice. This is simply what's right for me, and a few thoughts behind it.

In 1986, I decided to be vegetarian. The fact that I'd recently bought The Smiths' "Meat is Murder" surely wasn't coincidental, combined with the fact I'd been thinking about what food was before being turned into oft-unrecognizable "products". That day, my mom said I'd die young due to malnutrition. Well, it's 28 years later and this is a natural part of who I am. I see all creatures as part of the same Earth-family, and don't personally view them as "food" or have any desire to take their life when there are countless other easily attainable & deliciously sustaining options available. When I first became vegetarian, there were cravings I sometimes had and there weren't yet any substitutes. No "craving" was worth another's life to me so I ignored it and moved on. Since then, loads of basically identical tasting veggie alternatives have come out, so there's never a reason to feel anything's lacking (& the original cravings have been replaced with new favourites) :)

In the animal world creatures kill others for food (they don't have handy grocery stores & farmers markets <-- click the link to find ones local to you), but they do it in a way where they for the most part take only what they need. Generally, their behaviours can be naturally sustained and balance out. Raising animals in cramped, inhumane factory farms is neither humane, nor naturally sustainable (causing growth hormones & antibiotics to be used in bulk), and long-line fishing clears sea life from whole swaths of ocean in a way that takes the lives of unfathomable amounts of "byproduct/undesired" sea life beyond the targeted catch. It's simply not the same as some fisherman off the coast of Sicily casting his net to catch enough for his family to use that day. One is sustainable, the other wreaks havoc on the vital balance of an ecosystem. It's unlikely the entire human race will ever become vegetarian, but I'm glad I did, and ~maybe~ for each person who does, there will be that much less of a demand for mass-produced "meat" and that much more focus on organic, plant-based, nutrient rich foods. For those who aren't vegetarian or vegan, it's still possible to help the big picture by being conscientious about what you're eating, where it comes from, and the conditions under which it was raised (this is also true for clothing and anything else we buy). We all demonstrate power through what we choose to consume, to show what we do not, and what we *do* support.





Thing the Third: Supporting the Creative Arts in all its many forms. For this artist, 2014 marks the 20th anniversary of a certain premiere collection's black catalogue of clothing designs going out into the world with hand-tattered ribbons, with ornately handwritten silver writing on black linen envelopes and postage stamps with paintings of Japanese cranes (a symbol of longevity). My hope was that those pages would wing their way to other souls around the world ~ giving a glimpse into another time & place, and showing how beauty could come out of a place where most saw only darkness. I never considered that 20 years later this would still be my vocation, but looking back on the heart and soul that was poured into every detail, it makes sense. That said, all the passion, vision, and dedication in the world might not have meant much if there weren't others to actively help support that vision by making sure these creations could continue to be made & find loving homes. It's been such an honour and heart-joy to see these offerings go on to be worn for some of the most special occasions in people's lives, as well as to simply make the every day a bit more personal & enchanting.

To this day, I'm so grateful for each order. In 1994 we celebrated with nachos every time one arrived in the mail (probably a good thing we curtailed that practice)! I mean it sincerely when I say each and every one of you are so appreciated. I wish I could do a collage with *everyone* who's shown support through the years, but here are a few photos I quickly cobbled together of some of our wonderful customers (who are often friends, which means so much!). You are all so inspiring, lift my spirit, and oftentimes, keep me going by providing a tangible reason to keep creating. This isn't just how it is for me, but for any independent artist/creator/musician/writer/designer/photographer/etc... Enjoying the work online is also *of course* appreciated, but if you really enjoy and value a person's art/craft and want to see them continue to make more of it, give them a reason to when/if you can ~ since humans have this $ thing that other animals don't require, artists can't pay their bills on "likes" alone ;) (Speaking of which, my friend Elisa/Visioluxus has a Patreon and I'd love to see her getting some more patrons :) Thank you! (Edit: I just found out Elisa's having to close her Patreon due to needing to dedicate time to a family medical issue.)




~ Kambriel

[Kambriel.com ~ Etsy ~ Twitter ~ Tumblr ~ Facebook]

September 6th, 2014
---
03:20 am - The Power of Three - Part II
Continuing on yesterday's post beginning the three days of posting three positive things...

Thing the First: Tea. The comfort, the warmth, the simple alchemy that comes from tiny leaves & such steeped in water... Tea provides an opportunity for a few personal moments of quiet meditation in a world where there's always a few dozen more things that need attention at any given moment. Generally I stick to caffeine-free, organic herbal teas. Pure peppermint is a longtime favourite, but I enjoy adventuring off into other blended varieties too. (I couldn't find a photo of tea I'd taken, so this little arrangement of floating flower petals in one of my great-grandparents' tea cups from when they lived in Japan shall suffice.)




Thing the Second: Nature walks. Like tea, it's a brief meditative break from the noise & clutter of life. No matter if it's hundreds of times, it's never the same experience twice. The quality of light filtering through the leaves changes, some days squirrels are frantically chasing eachother, others they are blissing out in a food-eating trance with acorns or the occasional mushroom that they hold as if it's an entire pizza pie. Rarely a snake will cross the path or descend into a tree, sometimes there are other people, sometimes it's completely desolate, damp, and grey. I've gotten to know which waterfront tree with a little ivy covered "alcove" has a blue-tailed skink living in it, where the glossy black stag beetles parade like giants, and where the blue herons land. I've noticed how the Summer cicadas considerately pause their raucous song when anyone passes nearby. The scents change, the temperatures change... It's a perfect way to stay connected to the flow of the seasons and bear witness to the individuality of every passing day.




Thing the Third: Generosity of support. It's like the James Keller quote, "A candle loses nothing by lighting another candle." On the contrary, like I recently said on Twitter, if you light another & stand together, the glow is twice as bright.




~ Kambriel

[Kambriel.com ~ Etsy ~ Twitter ~ Tumblr ~ Facebook]

September 5th, 2014
---
04:13 am - The Power of Three - Part I
Heart-Sister
cupcake_goth, tagged me to post three positive things for three days in a row. Sounds lovely! Considering and expressing gratitude is a positive/powerful thing, so anyone else who'd like to follow suit, please do.

~~~~~~~~~~~~~~~~

Thing the First (not technically a "thing"): Friends who become family. Hearts and souls we seem destined to cross paths with, regardless of where or to whom we were born, that become a treasured part of the stories of our lives and nourish us from within. Friends who are wings in the good times and a net when we fall.




Thing the Second: Earth. The universe/multiverse is wondrously infinite, but we are beyond lucky to have this one vivid & varied jewel, circling through the vast blackness as our inspiring, nourishing home. The sheer number of life forms we inhabit this planet with is astonishing, and it's important to remember the vital, symbiotic connection we all share with eachother. Afterall, we're the newcomers amongst many of our fellow creatures, guests in their home ~ and should extend our respect and compassion accordingly. It's also important to remember as relative newcomers with a great capacity to both create things of beauty & things of destruction, that Nature has over eons learned to provide, balance, and self-regulate in greater ways than we could ever hope to mimic or coerce so a certain level of humbleness in the face of this and our growing effect on it is vital. Just because we ~can~ do something, doesn't always mean we should, and a bit of restraint when making use of limited, irreplaceable natural resources is both a beautiful and very wise thing.





Thing the Third: Art. I can't count how many times art has saved me. When dark & seemingly hopeless moments happen, art in its multitude of forms has had a magical way of coming along and shifting the gears towards thoughts of inspiration, creation, appreciation.




~ Kambriel

[Kambriel.com ~ Etsy ~ Twitter ~ Tumblr ~ Facebook]

April 23rd, 2014
---
06:37 pm - "How long is forever?" "Sometimes, just 1 second."

(photo of Mt. Hood, taken on the flight into PDX)

I recently got back from an adventure to the West coast wherein it would seem at one point I transformed into a rabbit (and quite possibly a full-fledged member of
cupcake_goth & Clovis' Evil Bunny Alliance) whilst believing in impossible things ~after~ a breakfast of Crème Brûlée French Toast made by the infinitely talented & hospitable Elisa (someday I really hope she opens up that fabled b&b at ocean's edge).



The backyard birds were curiously tilting their heads at the sudden appearance of a giant bunny... Elisa's husband Phillip came out, unaware of us doing this post-breakfast shoot in their backyard and started laughing with a sense of delightful resignation at the should-have-known absurdity of the scene.


Whilst in Portland, Visioluxus and I worked on several shoots together. The first day after I got in, we did an editorial shoot to be published later this year, for which I was to style approx. 10 androgynous looks. I made and brought enough for double to triple that because... options! This photo was from the night before, when Elisa & her family made a special trip to the studio to start unpacking a bottomless box o'wardrobe I'd shipped in advance & a game of dress-up with their utterly awesome daughter was probably inevitable:




Here's a behind the scenes shot of hair/make up artist Gina & model Van getting ready at the shoot the next day, and realizing how slippery they were together whilst wearing matching silk & satin charmeuse shirts ;)





It was a particularly heartening visit, because it happened to coincide with my birthday, which is normally a fairly quiet day. This year however, I found out my wonderful friends
solstice_lilac,
al_fredo & Elisa had planned a thoughtful surprise birthday tea party! Ironically, the surprise was inadvertently mentioned to me earlier that day, but I just assumed it was a joke & it still ended up being a total surprise when we pulled up to the historic hotel where it was being held :) We were all still a bit groggy from a late night at The Vampire Masquerade Ball where we'd vended the night before, so we ended up diving into the various little treats & pots of tea without taking any photos (& I ~might~ have shamelessly had to ask for a replacement cup after absentmindedly pouring some delicious "Citrus Nectar" hibiscus petal, orange zest, lemon balm, cloves, lavender, licorice root & sweet leaf tea directly into my cup w/o the strainer), but it was a relaxed & friendly, special, decadent, yet low key morning that I'll remember for many birthdays to come... Perhaps it should mark the start of a new tradition!


Travelling back in time to the night before at the Vampire Masquerade Ball ~ here's a photo Elisa took of me right before doors opened, after we'd set up our tables downstairs:




It actually became my birthday as the clock striked Midnight, when I quickly snuck back upstairs to watch the assembled crowd gracefully waltz in the new day... The pearled headdress is one I made from a plethora of broken antique pearl necklaces that my great-grandmother used to wear. It was wonderful to be able to make them into something new again! You might notice the rest of my outfit is from the bunny shot ~ because some of us prepare for Vampire Balls by hopping around friends' backyards in giant rabbit masks beforehand. *insert Bunnicula joke here*

After the big, full team/ten looks editorial shoot was in the can, we relaxed a bit (note: this is how artists "relax" ~ by making more art!) and did a just-for-fun shoot in the park ~ during which, we experienced various instances of "doggus interruptus". This photo is from when a crazed little pug ran up to me (don't be fooled by photos that freeze a moment in time & make over-excited pugs look "calm") ~ she kept running in these hilariously rapid whirlwinding circles like an animated Tasmanian Devil, complete with never-ending grunty pug noises. I couldn't maintain a "serious face" for the life of me, and didn't even bother trying ;) You can see a couple more shots & Elisa's funny take on it here: http://kambriel.tumblr.com/post/83638574062/kambriel-avecpug




Somewhere in all this I also got a total hackjob of a haircut (this was my big "treat" after having cut my own hair for the past two decades...). I'm looking on the bright side though ~ it will come back, and making a variety of massive hats like the one above will certainly come in handy in the meantime. I suppose I'm willing to sacrifice my hair to the Gods if it helped the fact that I made it through an almost 2-week trip, dodging illnesses left & right, *without* falling ill. That's probably worth at least half a head of hair ;)

After Portland, I traversed up to Seattle for some empyrical scheming rarified downtime with
cupcake_goth Not quite sure how I made it home actually, as I detected her minions were plotting the many ways in which I could "accidentally" miss my flight. I also suspect she slipped some Washingtonian apple-magic into the Dutch babies she baked for brunch *three days in a row*! I think Jillian needs a special flambé version called Dragon babies.

Overall, this little embroidery sums it all up:




~ Kambriel

[Kambriel.com ~ Etsy ~ Twitter ~ Tumblr ~ Facebook]

September 18th, 2013
---
06:29 pm - The wings we grow, the wings we shed...
I just got back from a rather surreal walk in which I first happened upon a gigantic imperial moth caterpillar slowly, yet purposefully undulating its way across a path, and then a bit further down found a recently deceased hummingbird ~ so perfect and supple as if it had just fallen from the sky. Both green, fantastical, beautiful in their own ways… caught in a moment of time in which they're on the way to becoming something else, a transition of the self.




I accompanied the caterpillar long enough to make sure it could safely cross the path and find its preferred new home in a rather stout tree; the hummingbird is currently wrapped in silk, looking as if it's soundly sleeping. I'm giving it a little more time for its spirit to soar ~ to 'hear' the birds chirping in the nearby trees, and will then give it a peaceful burial.

Between the sudden appearance of these two wondrous creatures, there must be a story in here somewhere… The wings we grow, the wings we shed ~ a mirrored beauty of life & death. Shades of transition in iridescent green.

(Crossposted from Tumblr: http://kambriel.tumblr.com/post/61618390885/caterpillarhummingbird)

~ Kambriel

[Kambriel.com ~ Etsy ~ Twitter ~ Tumblr ~ Facebook]

April 13th, 2013
---
10:57 am


Also ~ possible Aurora Borealis viewing for some in the US tonight ♥

~ Kambriel

[Etsy - Twitter - Tumblr - Facebook - Dreamwidth]

February 16th, 2013
---
04:39 pm - Thundersnow & The Bed Song
Just now I heard the wind howling and looked outside to see a sudden, blustery snowfall. After a few moments of looking skywards (and taking the photo below), I saw a streak of lightning flash across the sky, followed by a crash of thunder. I've heard thundersnow before, but this was the first time I got to really ~see~ it too… Wonderful.





Also ~ Amanda Palmer's "The Bed Song" video directed by Michael McQuilken & filmed by Sarah Lasley has been released:






("The Bed Song" dress (created on the spot out of bed sheets!) by Kambriel)


You can see my original post from when the video was first filmed, with loads of photos & some behind the scenes stories here:

http://kambriel.tumblr.com/post/30585466109/letsgotobed

Love with an open heart, and never be afraid to ask…

~ Kambriel

[Kambriel.com ~ Etsy ~ Twitter ~ Tumblr ~ Facebook]

February 3rd, 2013
---
12:08 am - Kitchen witchery of the day...
Eight of these have managed to survive the day ~ it's a miracle!




Pumpkin spice muffins with almonds and dark chocolate candied ginger. They were "experimental", and the main purpose was keeping warm on a cold Winter day, but they came out perfectly, so I had to snap a picture :)

~ Kambriel

[Kambriel.com ~ Etsy ~ Twitter ~ Tumblr ~ Facebook]

February 1st, 2013
---
09:22 pm - Suspiria
Some new creations & art! These are just the tip of the iceberg of what we've been doing lately, but I realized I hadn't posted here in a while & wanted to at least share a couple of new designs/photos :)




Suspiria Gown photo of ONOH (& mourning doves!) by DividingMe. I really adore how this gown turned out, and when I first saw this photo, I thought it might need to become a poster... it's capturing one of those mystical dreamworlds you wouldn't mind getting lost in.

Also... the Sherlock Greatcoat as worn by the mysterious damsel I half-suspect of being "Jacqueline the Ripper":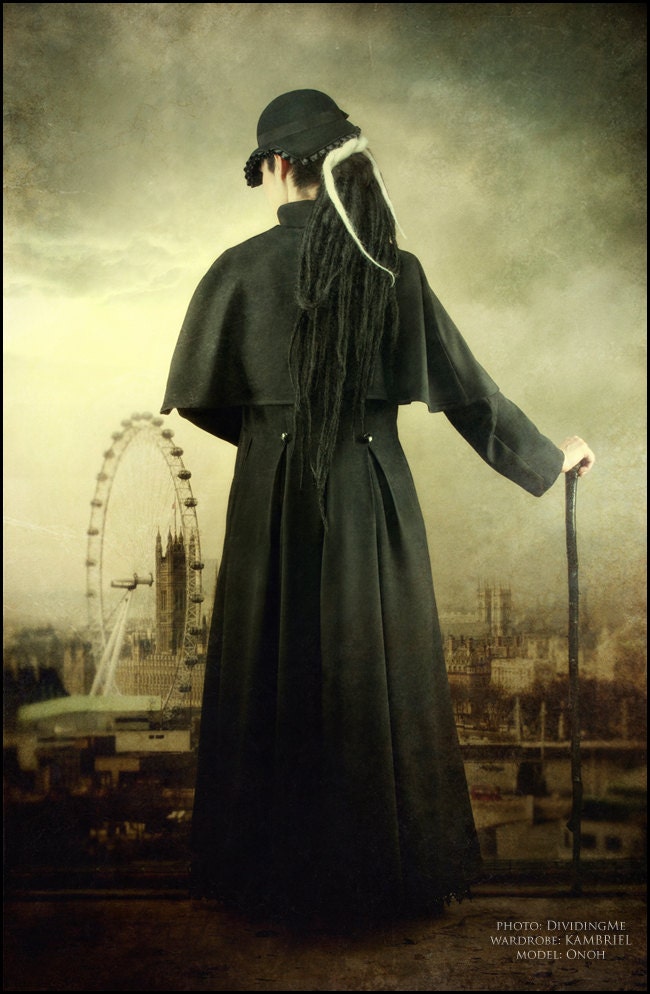 This is based on a custom Kambriel greatcoat made for Neil Gaiman that for those of you not on Twitter (where I'm able to update more frequently) or Tumblr recently sparked a humourously surreal debate from Neil himself as to whether he believed he was actually "cool enough" to wear it...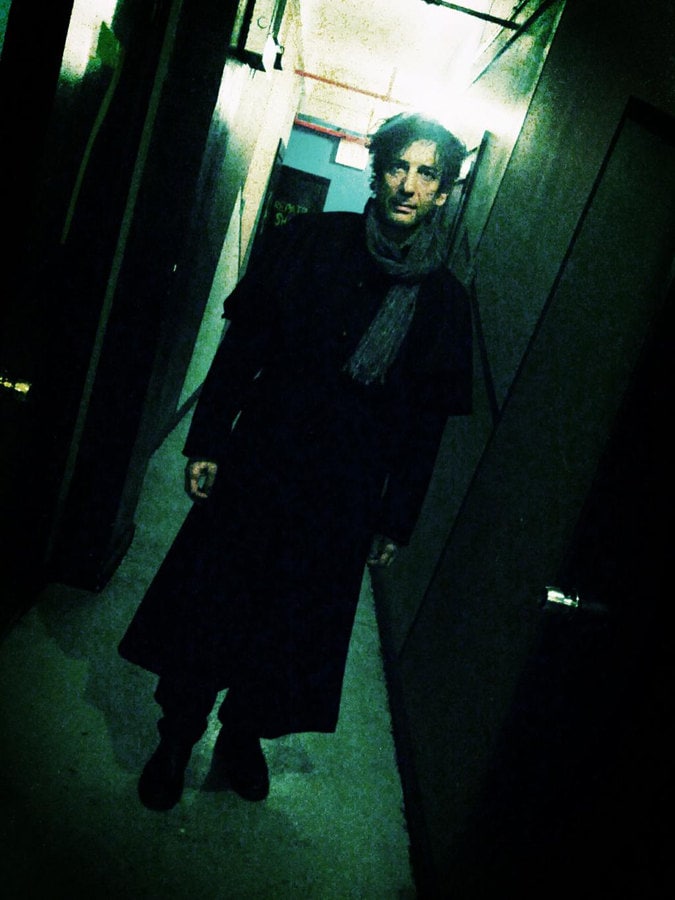 I daresay he is.

There's lots more in the works & I'm trying to make the most of each day even though the Winter weather beckons wishes for the simple luxury of hibernation. Summoning my inner Rumplestiltskin...

~ Kambriel

[Kambriel.com ~ Etsy ~ Twitter ~ Tumblr ~ Facebook]

January 16th, 2013
---
10:01 pm - Rainy Day & Evening of Awesome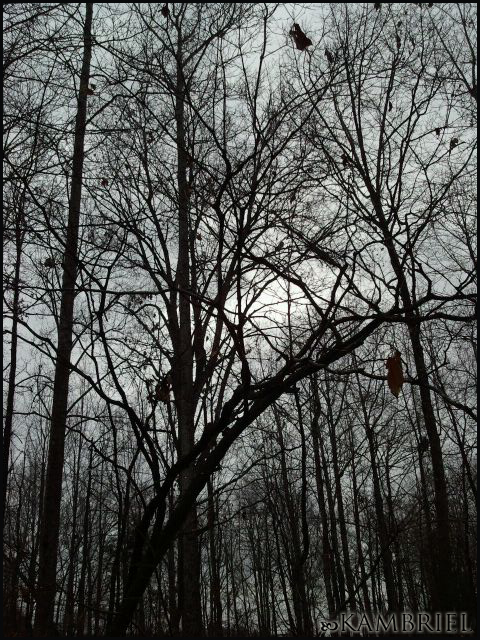 Photo from the other day when I walked a mile and a half in the rain. Peaceful quietude, filled only w/birdsong & the soft sound of raindrops on pine needles and Winter-bare branches overhead. The sky looked like mercurial silver, so I couldn't resist taking a picture & trying to capture just a bit of it.


Also...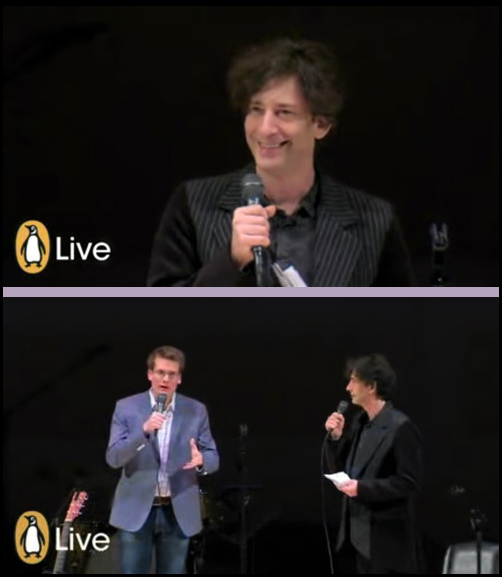 These are from last night's "Evening of Awesome" at CARNEGIE HALL! Neil is wearing his one of a kind black velvet & striped Kambriel coat... Yes, there are indeed threads in there that aren't black ~ hopefully I'll be forgiven this flagrant trespass, but I tried to make up for it with the rest of the frock being made from über soft to the touch black velvet ;)

~ Kambriel

[Kambriel.com ~ Etsy ~ Twitter ~ Tumblr ~ Facebook]

January 12th, 2013
---
07:25 pm - Cabal ~ in memory of a truly wonderful dog...
Yesterday the world lost its noblest dog, Cabal. Cabal was an old soul dressed in the body of a white German Shepherd that survived being chained and uncared for until April 30, 2007 when fate intervened, he was found by Neil and became part of the family he was always meant to have.

My belief is that his spirit will cause the moon to glow a little brighter.


A few moments in time...

Master Cabal, alert & at the ready (with an adoring, slightly worn out Lola faithfully by his side):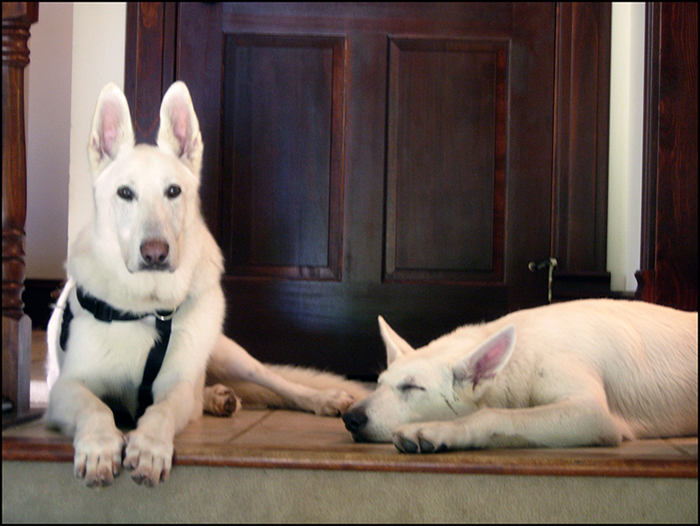 Sharing a peaceful moment on a hot Summer day: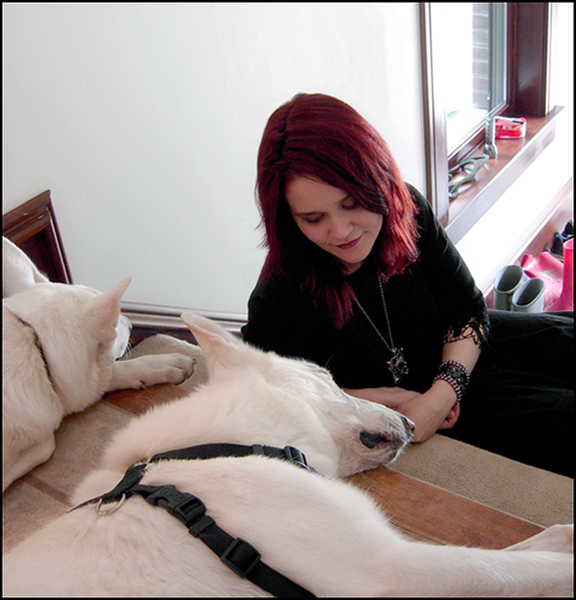 Heading out for a walk... I loved how Cabal kept corralling me back in: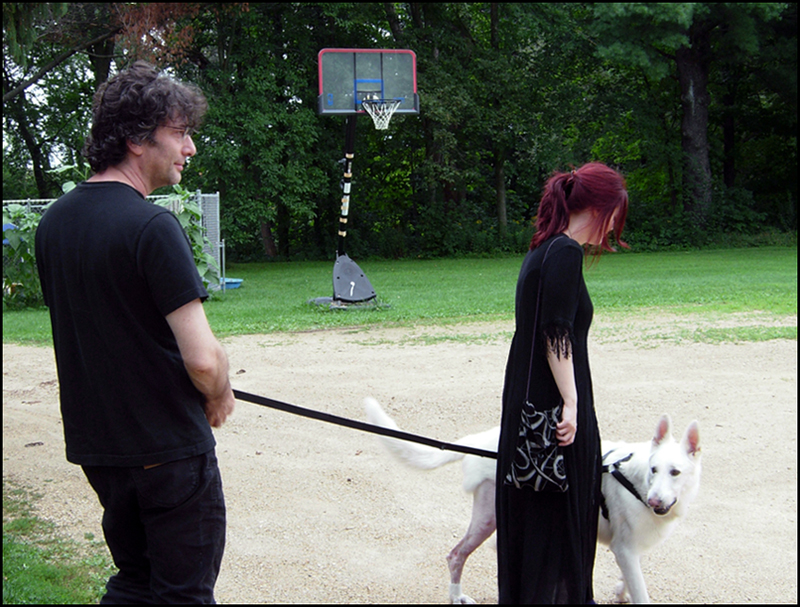 The personification of love, loyalty, fulfillment, friendship, faithfulness, understanding & an unbreakable bond that neither distance, time, nor death itself can sever...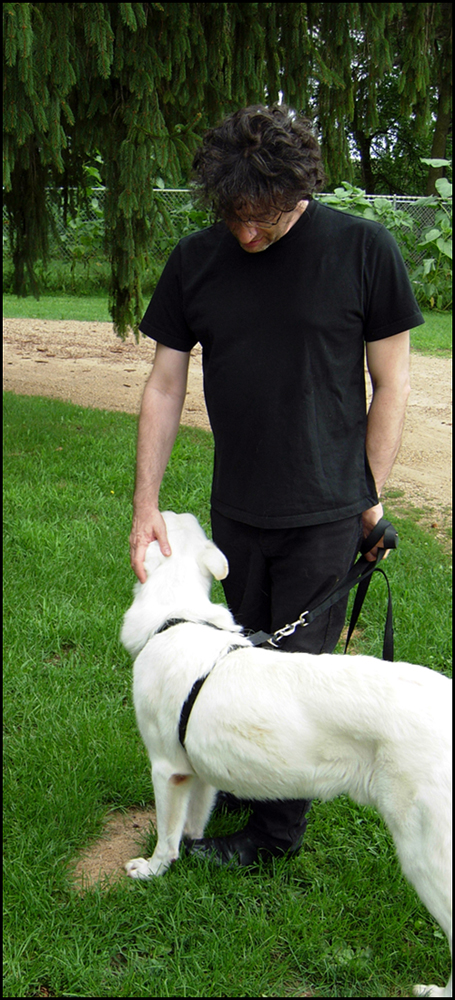 Neil's heartfelt post: http://journal.neilgaiman.com/2013/01/the-power-of-dog-cabal-2003-2013.html

"If Love Could Have Saved You, You Would Have Lived Forever." ~ Within the hearts of those who loved him, I know he always will.

~ Kambriel

[Kambriel.com ~ Etsy ~ Twitter ~ Tumblr ~ Facebook]

December 28th, 2012
---
08:58 pm - Purple Rain...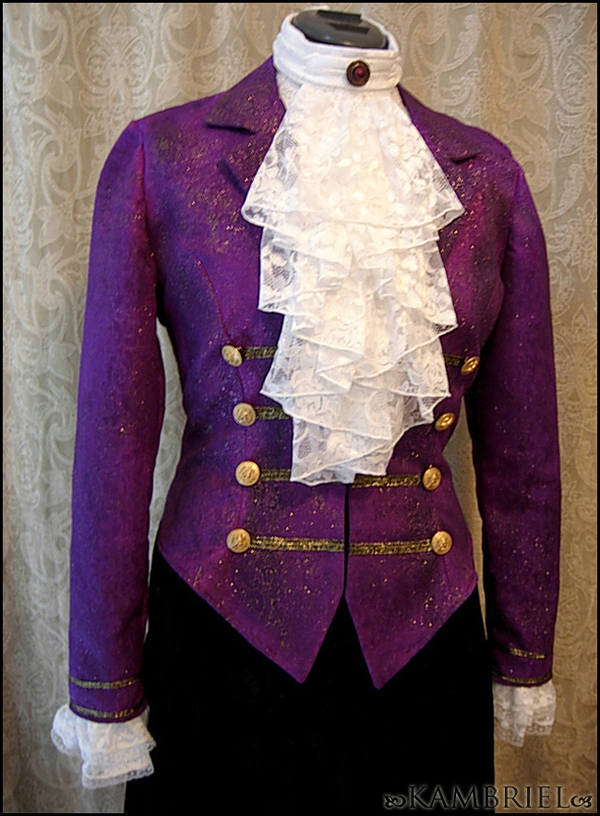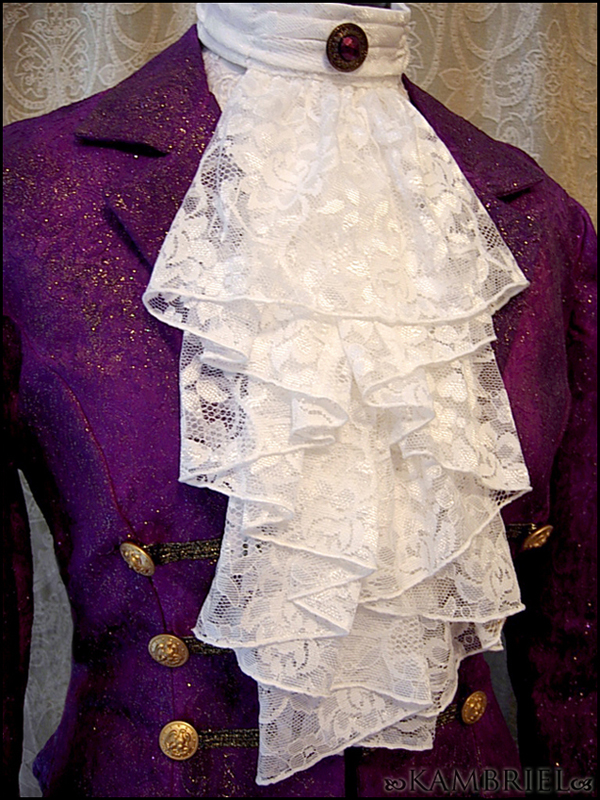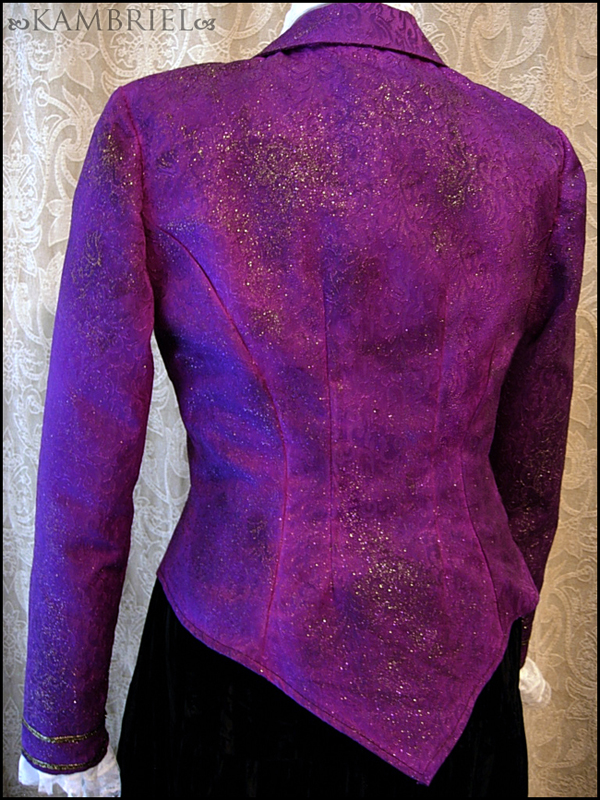 (

dearly beloved...Collapse

)



I've been busy this past week making some brand new custom stagewear for Amanda Palmer! These pieces were created for the upcoming New Year's Eve show at Terminal 5 in NYC wherein the entire "Purple Rain" album will be performed live to wrap up 2012 & ring in 2013. In honour of the performance's muse, I wanted to create a neo-romantic decadent, yet structural look Prince himself would approve of. The jacket design was drafted by hand just this past week & originally made from an intense fuschia brocade which I then layered with four different tones of dark purple, glittering gold & violet paints to achieve a deeper, multi-dimensional shimmering effect. Here's hoping it sparkles under the lights of the stage!

For those attending the show (sadly, due to a huge unexpected expense earlier this month, combined with a snowstorm thwarting the long drive, it looks like I'll have to be there in spirit) ~ keep your eyes peeled and you might also catch sight of a sheer, metallic purple kimono I made for Amanda, as well as a raspberry beret...

~ Kambriel

[Kambriel.com ~ Etsy ~ Twitter ~ Tumblr ~ Facebook]

December 21st, 2012
---
07:45 pm - Solstice


Wishing you a magical Winter Solstice...

(Photo: DividingMe - Headdress & Gown: Kambriel - Model: Nancy Dee)

~ Kambriel

[Kambriel.com ~ Etsy ~ Twitter ~ Tumblr ~ Facebook]